When I walk into the election booth this coming Fall, I'd love to take out my iPhone, open The Magic App, and click "locate me" to zero in all that data, election coverage, and endorsements for candidates and issues I see on the ballet. Maybe I could even take a short quiz to find my preferences – with questions specialized for my location, of course. There's plenty of voter guides as always, but I haven't found (or really looked, to be honest – maybe y'all will tell me what's out there!) for a mobile app that's the equivalent of Yelp for government. I mean, if it just told me my voting location, that'd be massive.
It's harder to hate what you understand
In addition to voting, it'd be great to see the effects of government around me. "This road was funded by your country," or, "this exit ramp was funded by your congress member." You could call this features, "what have you done for me lately?"
Or, for the arm-chair auditors out there, when walking around all the State of Texas office buildings, I could get info on what they're actually doing in there, how it effects me, what the total salaries and budget for those buildings are. "See that building, they account for and spend over $50 million a year."
There's a huge amount of data about government that'd be fascinating to have on my phone, as I saw, Yelp-style. Government, esp. local and State government is often obtuse and you get a lot of people not really appreciating the good things they do. Like those exit ramps that let us easily get off the highway to a new outlet mall. As I like saying, one citizen's pork-barrel spending is another citizen's delicious bacon.
The Citizen Cloud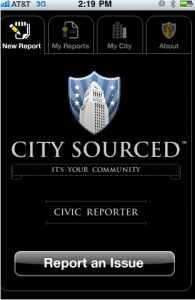 While such an app would have excellent utility for each individual, aggregating the data about what each user does becomes even more interesting and valuable:
Tracking which locations people look-up voting info in would give you an idea of how many people were voting and where. I'm no demographer, so there's all sorts of problems here I'm sure: only a specific type of moneyed person would have a smart-phone and take it to the booth and know how to use it. But, with a bit of demographic data, I'm sure it'd be interesting, novel data anyhow. Get them to give you their LinkedIn, Facebook, and Twitter account, and you can build up all sorts of profiles.
If people wanted it, they could even share their vote (or just that they'd voted) in the app, on social networks, or where-ever. I don't know how it is in other countries, but here in America talking about how you voted is like talking about your salary: it's a taboo that helps all but the people keeping actually quiet.
Tracking where people look-up "what have you done for me lately?" information might get you a sense of "hot spots" and places where voters are curious about the role of government. This could play to "both sides" of the government space: those who want to find waste and those who want to celebrates providing services. Indeed, you could see how individual elected officials would love this data: how active is my constituency, and how curious/aware are they of what I've done for them?
The Pothole Reporter – several apps in the private and public sector exist to track problems. AT&T has it's dropped call reporter, some communities have "pot-hole reporters." Taken individually, this kind of stuff gets ignored (I'm sure citizens don't want to fund the salaries it'd take to look over each reported issue). But, aggregating them together gives government more data to sift through. And, it gives the anti-government folks poop to hurl at "an apathetic government."…