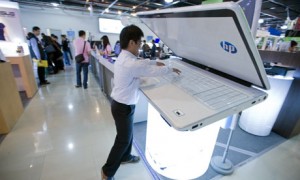 Fellow Enterprise Irregular Larry Dignan recently took copious notes during a presentation by HP's Tony Prophet at an investor event. Prophet is HP's SVP of global supply chain operations. Larry's post over on ZDNet covers Prophet's presentation at an RBC Capital Markets event, and there are a ton of fascinating factoids about the size and scale of HP's procurement and operations efforts. According to Larry, "Prophet's talk focused on HP's supply chain and how the company has worked to become more efficient." Yet it's the numbers that jump out.
Larry begins his look at HP by the numbers, sharing that the company spends $60 billion annually on the sum of its purchases, including "components, logistics, transportation, warehousing and services associated with the supply chain." Taking it back down to a unit level, HP spends $50 to produce a single PC. These costs refer "to 'transformation,' or manufacturing, and items like transportation and duties." It's fascinating to note that, "the cost of manufacturing and transformation in a PC is now less than the cost of memory in a computer."
In other words, HP has become so good at managing supply chain partners (contract manufacturers, 3PLs, etc.) that they've gotten non-component costs down to such a level where the costs of global sourcing and movement are almost an afterthought from a total cost standpoint in the machine itself. Moving onto the next set of numbers, Larry refers to the success of HP's supply chain rationalization efforts, noting it has reduced the number of PC supply chain sites (including inbound and outbound hubs) from 70 to 30 in recent years, in a model where suppliers / partners own the majority of the network itself.