SaaS Adoption Surveys Often Overlook Audience Composition

Over the past year, analyst firms, tech media, and even mainstream business media have happily showcased positive news about SaaS adoption.  The common theme remains clear – SaaS adoption moves beyond the tipping point in 2010.  Cloud adoption will reach a tipping point in the next 12 months.  All this bodes well for customers and SaaS providers as organizations now embrace SaaS as an acceptable deployment option in their apps strategy.  Unfortunately, recent SaaS/Cloud adoption surveys continue to provide confusing and sometimes contradictory data about adoption.  Close examination of these surveys reveal that not all adoption surveys are equally created.  The unspoken question, who's answering the surveys?
SaaS Decision Making Firmly In The Hands Of The Business Buyer
Anecdotally, business users drive SaaS decisions, while IT leaders remain skeptical.  To validate this hypothesis, Software Insider conducted a quick survey of 100 Global 2000 organizations.  Starting with the most senior IT leaders, the question was posed, "Are you using SaaS in your organization for major business processes?" (see Figure 1).  Of the 46 organizations who responded, the procurement leaders were then asked the same question (see Figure 2).  After comparing survey results, the following conclusions emerged:
IT leaders aware but hesitant on SaaS adoption. A little under a quarter of IT leaders (23.91% or 11/46) responded that they were using SaaS applications.  Key applications deployed include CRM, strategic HCM, expense management and project based solutions (PBS).  Delving deeper into these verbal and in-person interviews highlighted a desire to learn more about SaaS.  As one CIO at a major food and beverage concern stated, "The business heads keep showing up with these SaaS apps and then want us to integrate them.  We need to get a handle on all this!"  Key concerns included, "I don't know if we can integrate all this in the future", responded the CIO of a large Fortune 500 retailer and "I think we need better governance and security", remarked the Director of Enterprise Apps for a Top 25 banking, financial services, and insurance (BFSI) entity.
Procurement leaders reveal surprising adoption by business leaders en masse for SaaS solutions. Conversations with the procurement managers highlight how business users have taken matters into their own hands.  Every one of the surveyed organizations (100% or 46/46) had an existing SaaS contract, contradicting the IT leaders who did not respond that they ran SaaS solutions.  In fact – these contracts ranged from five seat deals to 2000 seats at one organization.  As the procurement head at a large professional services firm indicated, "The teams will buy whatever they need now.  IT has no clue!".  "Business has to go around IT because they are too busy keeping the lights on", retorted a procurement manager at a global 10 pharma.  A procurement manager for a large multi-national manufacturer stated, "Our main issue with SaaS is finding enough solutions that will support our needs."
Business leaders take charge but fail to communicate with IT leaders.  The key finding – lack of coordination among business, IT, and procurement.   Amazingly, the 35 IT leaders who stated they did not run SaaS apps for major business processes still may not know about the CRM, HCM, Project Based Solutions, and Finances deployments in their organization.  When some of them were shown the results, these leaders expressed amazement and surprise.  Organizations should be alarmed but not surprised by this lack of coordination between business and IT.
Figure 1.  IT Leader Responses Show Muted Adoption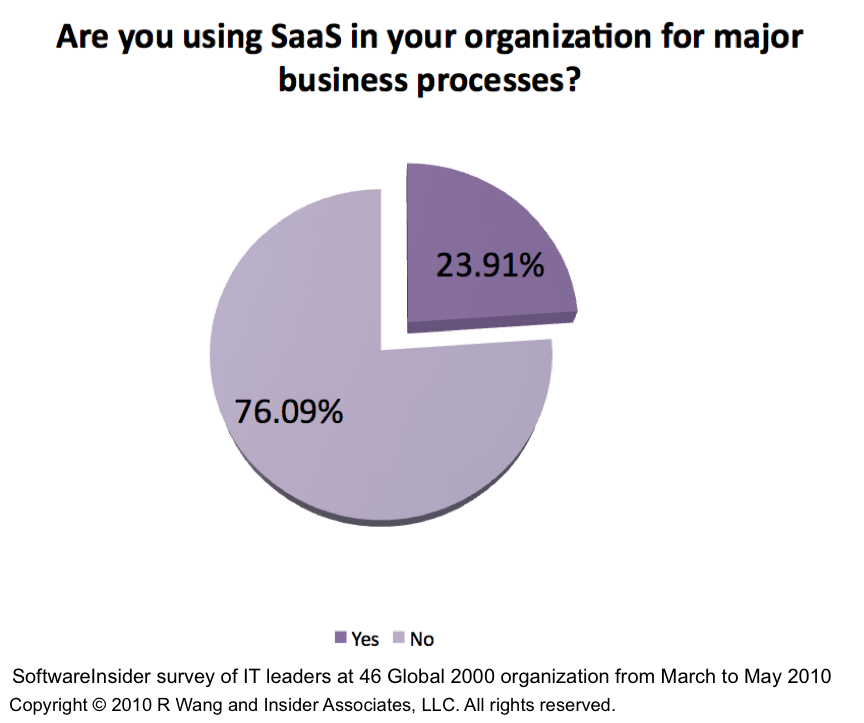 Figure 2. Procurement Leader Responses Paint A Completely Different Picture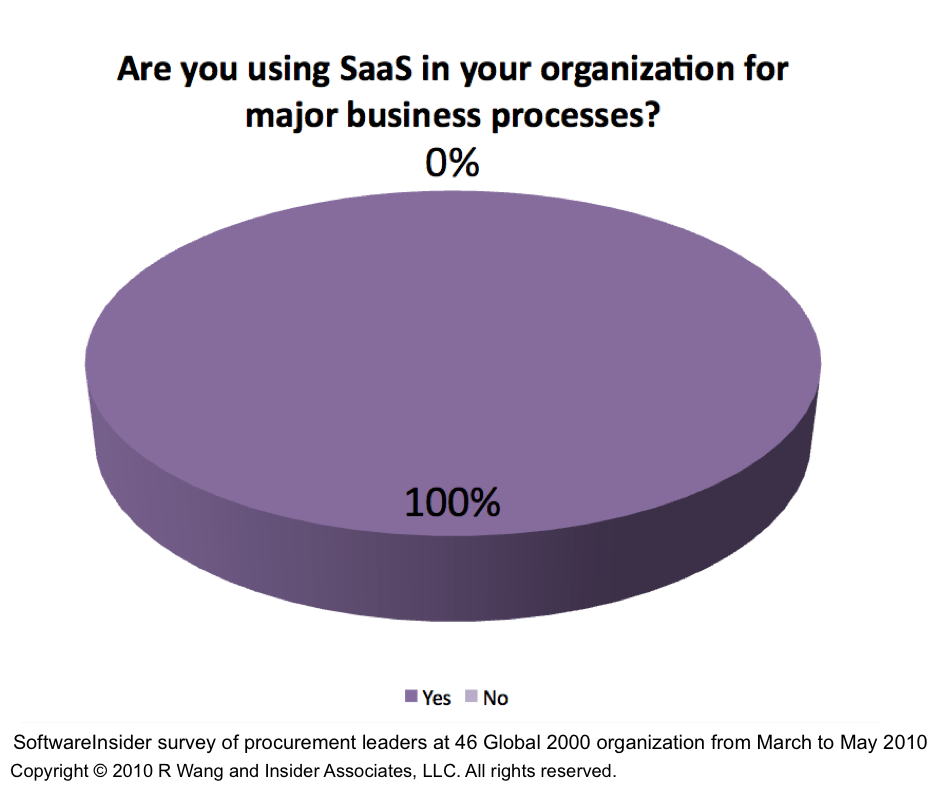 The Bottom Line For Users: Successful SaaS Strategies Will Require Business and IT Cooperation
Next generation CIO's, technology leaders, business leaders, and line of business execs should build SaaS apps strategies that:
Begin with the business process and desired business value. Understand the desired business value and outcome.  Map back the key performance indicators (KPI's) to the business processes. Identify what processes will be covered by the SaaS solution.  Determine overlaps and hand-offs between on-premise and SaaS to SaaS that are required to measure the desired KPI's.
Engage stakeholders early and often. Today's apps strategies must constantly evolve. Change is happening so fast that line of business leads and IT leaders must collaborate in real time.  The result – an ever changing list of requirements.  While SaaS allows business leaders to make go-it-alone decisions, success will require close collaboration on short term and long term requirements, dependencies, and strategy.
Bet on future suites, SaaS platforms or PaaS (Platform-as-a-service). Winners and losers will emerge in this wave of Cloud computing.  Vendors such as Netsuite, Workday, Zoho, Epicor, and SAP have built or will be building suites.  They provide safe bets as more and more functionality will be rolled into their offerings. Concurrently, organizations should also choose vendors who bring a vibrant and rich ecosystem to the table because those vendors will win in the market.  Salesforce.com and NetSuite already provide users with a platform to build on apps.  Other vendors such as as Google Apps Engine, Microsoft Azure, IBM, VMWare and Salesforce.com (via VMforce),  and Zoho provide rich developer communities.  Partner and customers will drive innovation which is why platform adoption (i.e. today's middleware) makes a difference…