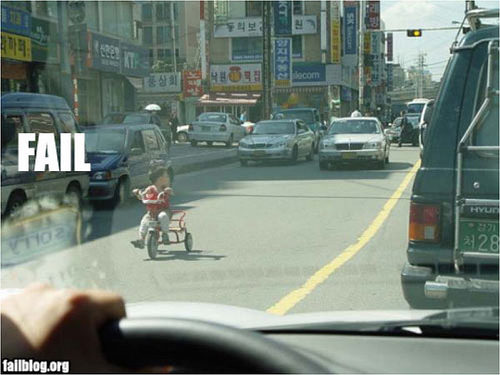 This Monday, Opscode announced a second round of funding and the beta launch of their long awaited IT Management as a service offering. There are two companies to watch in the automation space: Puppet Labs and Opscode. Both are doing innovative work to advance automation and configuration management, indeed, they tend to blur the distinction between those two categories so much that its easy to lump them together into simply "automation."
We've covered Puppet Labs and their eponymous offering many times over the years here at RedMonk (coverage). Meanwhile, after a community forking, the competing Chef team has been quietly building their open source project and company, Opscode.
Model-driven automation
I'm not sure this space has name, but I often refer to it as "next generation automation." These systems start from the desire to make provisioning and ongoing configuration of IT easier and end up creating a model-driven, declarative system for managing the state of of any given "service" in IT. One method of using this is to start with one small component and build up to larger services. (See the podcast and transcript of how Google uses Puppet for a more detailed explanation.)
The subtle, but important distinction in all this is that the admin is focusing on building models rather than scripting the exact wing-dings to flip around on each server. Then, the wider utility is applied when the system applies those configurations at scale, is used to enforce desires configuration (monitoring for rouge changes), and is integrated with others systems to provision or de-provision services as needed. It's little wonder that the cloud-crowd and the dev/ops sub-set like these systems.
The conceit of doing things this way is that when you're operating at scale and especially dynamically (whether virtualized or "cloud-ized"), other methods of automation are more tedious.
Opscode' Platform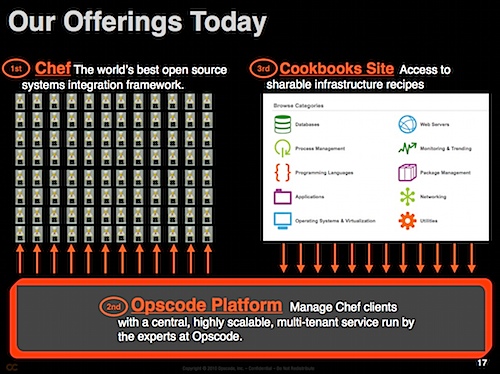 I've long wanted to see as much of IT Management as possible be offered as a service, and I love seeing companies try it – the ill-fated klir, Paglo (now part of Citrix Online), Tivoli Live, Manage Engine (still in beta?), AccelOps, Service-now.com, just to name a few. At scale, IT Management offerings become a beast to manage themselves (just sit in a room full of enterprise-level service desk users to hear their complaints feature requests) and the mechanics of SaaS delivery seems to offer a hopes to (a.) remove managing the management stack problems, (b.) allow for faster delivery of features, and, (c.) lower the cost, if not make it more transparent.
While model-driven automation has proven to be exciting and useful in its own right, Opscode's service offering is the net-new interesting thing. In short, the central hub of the Opscode's automation service is hosted "in the cloud," local agents are installed on your network (or in your own cloud, as it were), and the various configuration models (Chef calls them "recipes") are centrally managed. Splitting up a tiered management system between cloud and on-premise is somewhat interesting, but the more interesting parts come from figuring out how users can collaborate around the various configuration models and take advantage of the aggregate analytics.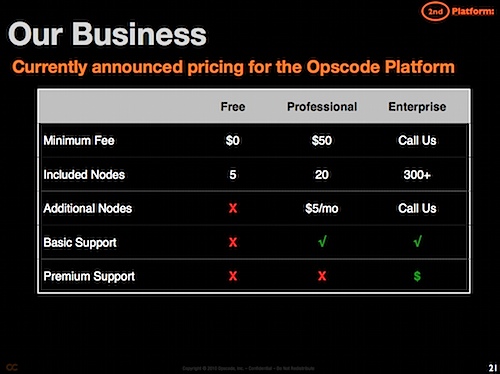 The Collaborative IT Management Vision
There are several interesting tangents for the Opscode Platform and similar offerings – managing cloud-deployed applications, helping treat "infrastructure as code" to mend relations and (hopefully) boost productivity between development and operations, and the pure cost savings that next generation automation offers. For me, the most innovating potential is around what I like to call "collaborative IT management."
When it comes to collaborative IT management the Opscode Platform has attractive potential…