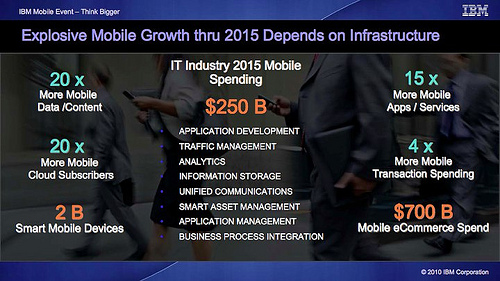 IBM says the mobile market is around $250B and is looking to grab a part of the pie.
With mobile fast becoming the new hotness in technology IBM's Software Group went to great pains last week to make sure press and analysts heard how IBM's software offerings were already helping companies tool up in the space. There were road-maps and early looks at future offerings as well.
IBM Software applies to mobile
IBM Software is already involved in many aspects of mobile, and is working on getting into even more of the backend.
Tied in with the opening of their new Littleton, MA lab (with an appearance and ribbon-cutting from Massachusetts governor Deval Patrick), IBM painted a picture of a mobile space full of cross-platform complexity, carriers with their feet to the fire to innovate business models, and an inevitable demand from consumers and businesses to go mobile.
The plan, IBM's Steve Mills said in the opening overview, is not to get in the handset/device business, but to provide the software needed to create mobile applications, run backends for mobile services, and then manage those services:
From the Rational portfolio, there's tooling and process packages to manage the creation and ongoing maintenance of applications delivered to smart phones and other devices. With its buy-in to the systems engineering space via Telelogic, Rational can also speak to managing the systems software for mobile: on phones, in towers, or where-ever the software is important enough to warrant the extra bullet-proofing warm-and-fuzzies heavy-process tooling brings (as opposed to, say, web application development where traditional, Rational-friendy heavy-process is seen as productivity-poison to most).
From Websphere, there's actually a lot of interesting middleware and visualizations from recent acquisitions and initiatives. Sterling Commerce brings excellent-looking apps used in retail stores to look-up and order items, on your iPhone (and other devices); just acquired Coremetrics has a nice mobile angle with tracking customers using mobile devices; a new framework to enable social shopping; mobile interfaces for existing offerings like Lombardi Blueprint; geo-centric services for things like "show me the convicts around me"; and pointers to mobile-centric services and middleware in the works.
From Lotus, there was an application bonanza and the usual fun and interesting ideas being kicked around in IBM Research. With the Lotus brand's emphasis on white-collar productivity tools ("collaboration"), their comments at the event spoke to fitting your everyday office-worker software to the mobile form-factor – not simply making "smaller" versions of existing software, but re-designing the workflows to fit into the mobile context.
From Tivoli, as you'd expect, there were offerings to monitor cell-towers, mobile networks, and do asset management of devices. Also, pulling in cloud work, Tivoli's Al Zollar briefly highlighted the prospects for telcos and carriers become cloud providers.
While some of the mobile connections were opportune – if "mobile" can be seen as a bunch of "tiny computer" on a network, it's pretty easy to apply most of the IBM Software portfolio – there were plenty of "native mobile" offerings to impress.
Who is this all for?
IBM's mobile efforts are targeted at giant companies with big budgets.
Clearly, IBM is targeting big customers with these offerings. There's really nothing to offer all those mad-cap app developers. But IBM isn't in the business of working with outfits with revenues of "$3,050 per year." Instead, IBM is going after its usual base of big-budget customers who need to either manage their business in the mobile space, or provide mobile apps.
One of the customers at the event was from ING Canada. While their US iPhone native app is anemic (the mobile web site it links to is just fine, though), I hear that their Canadian iPhone native app is, well, an actual iPhone app.
I was curious about the budgets for mobile apps like this and used the new Q&A service Quora to see what I could dredge up. While this is all cocktail napkin think, the answer from Christopher Mahan gives you a good sense for the types of projects IBM is targeting in mobile app dev:
I would say $5 million. Team of 10, 1 year. that's 1.5 million in salaries/costs. Plus management. Plus the costs to the IT infrastructure (new servers, disaster recovery stuff, etc. ) plus the costs of getting other business units to help the IT team. Then there would be the business analysts, the project manager(s) etc. $5 million might be a too low estimate. You'd have to train staff, create scripts for customer support. Put multiple languages for your non-english speaking customers (Mandarin, cantonese, vietnamese, etc) Heck, make it 15 million, and it will take 18 months. If you have really good people who work well, they might do it sooner, but don't hold your breath.
Mobile janitors embracing the complexity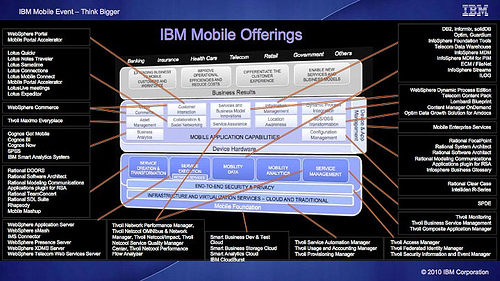 IBM will profit most if the mobile space is fragmented rather than simplified.
That said, the lack of unified application development vision, road-map, or even theory is a gapping hole in what IBM has to offer here. In past software development waves, IBM has put at least a few stakes in the group (using Java, for example) when it came to software platforms. Here, even internally you get the sense that mobile app development is a one-off each time.
There were calls from the crowd to take a stronger stance in helping standardize mobile app development. Shrewdly, Software Group honcho Steve Mills side-stepped the question and embraced the complexity. Indeed, as I'm fond of saying, for a software vendor, the more complex the ecosystem, the more opportunity there is to sell. The bigger the mess, the bigger the janitorial bill.
The iPhone is the exact opposite, of course: one platform, one vendor drives less complexity to sell different wing-dings into. And that's the tension with embracing mobile complexity. Arguably, until Apple came along and simplified the platform for (smart phone) mobile, it wasn't worth people's time to develop applications. (I think Apple's marketing clout and omni-present advertising had much to do with it as well, but that's a tangental story.)…