Infor Takes A Bold Stance By Standardizing Their Technology Stack

On June 23rd, 2010,  Infor announced that the Alpharetta, GA, based software solutions provider would align its future tools and technology platform with Microsoft.  Infor intends to use and integrate Microsoft server-based products to improve time to market for future product development.  In addition, Infor announced Infor ION for apps interoperability, data management, and data sharing.  Key takeaways about the new Microsoft based Infor technology stack focus on (see Figure 1):
User experience. Microsoft Sharepoint 2010 plays a key role in the unified graphical user interface for its applications.  Sharepoint 2010 will serve as the key portal.  In areas requiring dynamic graphical interface elements and rich internet applications, Infor plans to use Microsoft Silverlight.

Point of View (POV): Sharepoint gives Infor's product teams and customers more than just portal capabilities.  Some key features include a number of business connectivity services, business performance management (i.e. dashboards, scorecards, and KPI), digital asset management, enterprise search, excel services, health monitoring, managed metadata, records management, and Visio services.  Sharepoint also improves collaboration with social computing services such as blogs, presence, wiki's, and RSS feeds.
Middleware technologies. On the database side, Infor will select Microsoft SQL Server as the preferred database.  Subsequently, Microsoft Reporting Services will play a key role in the long term Business Intelligence (BI) strategy.  Authentication, security, and access control will come from Microsoft Single Sign-On service.  Where possible,  Microsoft Windows Server will serve as the preferred on-premise operating system.

POV: The middleware in the Microsoft Tech stack has substantially improved.  For example, SQL Server 2008 R2 Core Editions comes with dynamic chart integration to Sharepoint 2010, self service BI through Power Pivot and Office Excel 2010 that supports instant sort on 100 million rows of data, backup compression, data compression with UCS-2 Unicode support, and a basic but high-scale complex event processing with SQL Server StreamInsight.   With Windows Workflow Foundation (WWF), Infor and customers gain industry standard tools to deliver user interface page flows, human work flows, business rule-driven workflows, document-centric workflows, composite workflows for service oriented apps, and even system management workflows.
Approach to integration. Infor's investment in OpenSOA results in a simplified approach.  Infor ION intends to connect applications, analyze information, network business collaboration, and organize business processes across the legacy and new Infor portfolio.

Point of View (POV): Infor ION builds on the lessons learned from the original OpenSOA strategy.  Given the diverse portfolio, integration will require interoperability among BizTalk and WebSphere to be successful with existing customers.  If successfully launched by the end of 2010, ION will give Infor a key tool in bringing new functionality to the existing base with minimal migration costs.
Figure 1. Infor Shifts From Proprietary Stack To Microsoft Components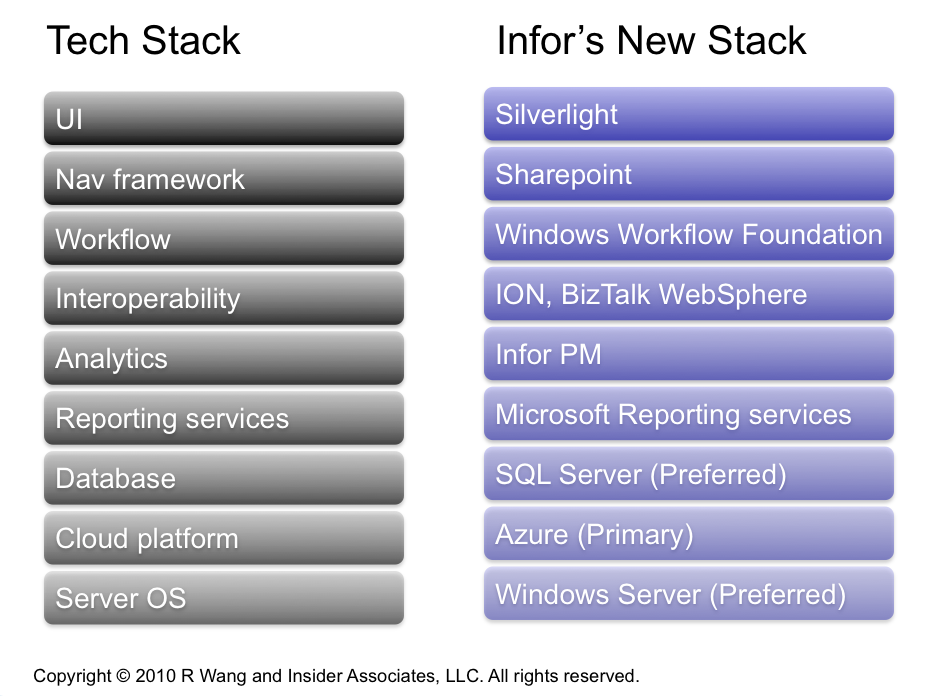 Copyright © 2010 R Wang and Insider Associates, LLC. All rights reserved.