BI Solutions Must Address The Information Management Matrix
A confluence of changing business requirements and on-going vendor consolidation leads many organizations to rethink their business intelligence (BI) strategies.  Many buyers face decisions to move beyond departmental solutions or to stay with an integrated apps based BI solution.  Meanwhile, some buyers must decide whether or not an integrated platform provides the right balance between business impact and cost of technology.  And most organizations seek support for new data types and new deployment options.  As BI continues to evolve from fragmented and historical reporting to pervasive, predictive, and real-time decision support, an organization's success increasingly depends on the support for a expanding information matrix of (see Figure 1):
New and traditional data types. A proliferation of data types from social, machine to machine, and mobile sources add new data types to traditional transactional data.  Examples include content, geo-spatial, hardware data points, location based, machine data, metrics, mobile, physical data points, process, RFID's, search, sentiment, streaming data, social, text, and web.
Visualization and reporting paradigms.  Users expect more than the traditional charts, gauges, and dials.  Web 2.0 innovations show how Rich Internet Applications (RIA) through tools such as AJAX, Flash and Silverlight can create interactive BI experiences.  New and old paradigms include ad-hoc query builders, business performance management (BPM) systems, dashboards, production reports, scorecards, and advanced visualizations.  New visualization types include matrix charts, network diagrams, bubble charts, tree maps, word trees, tag clouds, phrase nets, and others.
Approaches and styles. Analytical techniques continue to improve as data volumes explode.  New and traditional approaches include advanced analytics, business activity monitoring (BAM), BI workspace, decision support systems, low latency BI, meta data generated BI apps, non modeled exploration and in-memory analytics, scenario analysis, and OLAP.
Deployment options. With data coming from so many different sources, users are seeking new deployment options.  Common solutions in the BI portfolio include BI appliances, BI in the Cloud, BI specific DBMS, Mobile BI, open source BI, on-premises packaged BI apps, private BI clouds, and SaaS based BI.
Figure 1.  The Information Management Matrix Drives Next Gen BI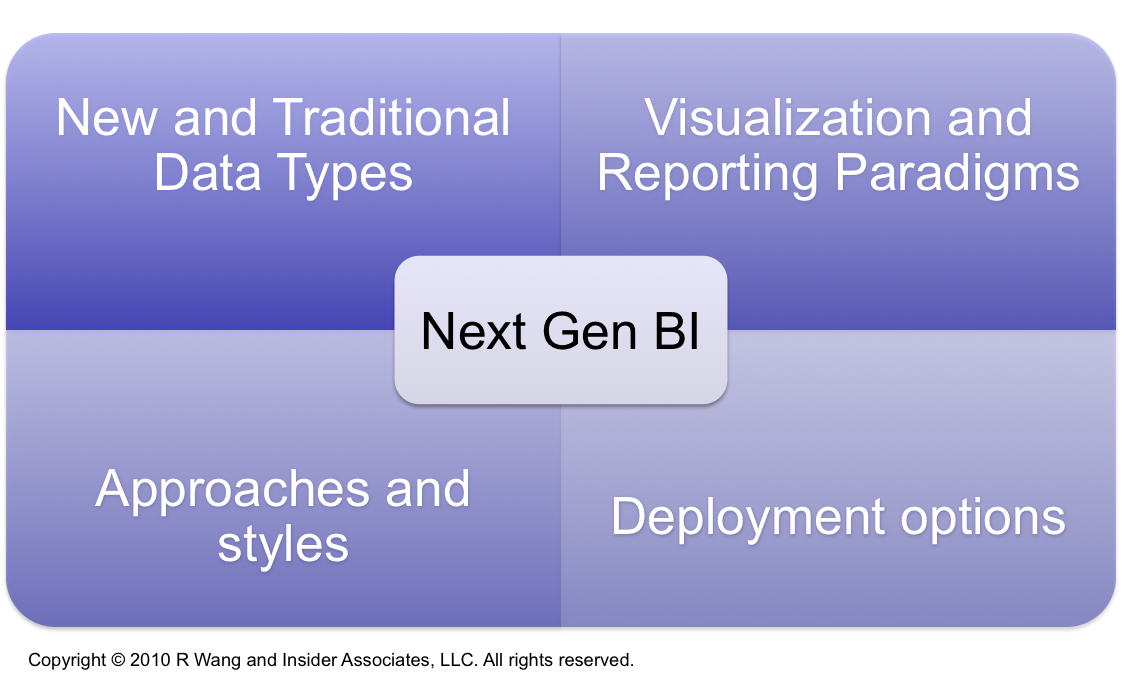 Explosion In Semi-Structured And Unstructured Data Challenges Existing Solutions
Along with new business requirements, the old world of structured data must make way for a plethora of new data types in unstructured data.  More importantly, solutions must support a growing number of industry vertical standards in semi-structured data.  Unfortunately, no single vendor can support all the data types that fit into the following three categories (see Figure 2):
Structured data. Structured data remains the most understood type of data.  Traditional sources comprise of data in transactional systems such as ERP, CRM, SCM and other database management systems.  Solutions conduct analysis via OLAP and traditional apps centric and database centric BI systems.
Semi-structured data. Common examples include flat files in record format, RSS feeds, XML documents, and data in spreadsheets.  Industry-specific XML data standards and cross-enterprise data-exchange standards such as ACORD, EDI, HL7, NACHA, and SWIFT will continue to grow as BI goes vertical.  On the document print stream front, new systems should support ASP, Met code, and PCL.
Unstructured data. Sources include natural-language text from e-mail, blogs, SMS, social networking sites, text fields, audio, video, and images.  Unstructured data represents up to 80% of today's data sources.  Enterprises are challenged in discovering and organizing unstructured data for the real-time delivery of information to the right user.

Figure 2.  Data Types Fall Into Three Main Categories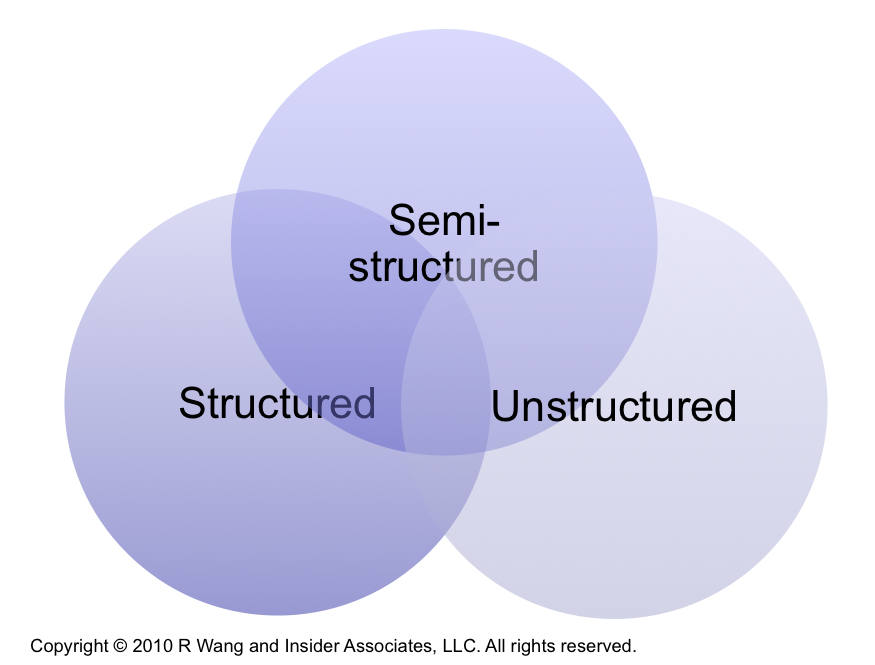 Next Gen BI Must Reflect Emerging And Evolving Business Requirements
As market hype increases and sellers (i.e. vendors) rush to meet new requirements, buyers (i.e. users) should focus on 10 emerging and evolving next gen requirements that span dynamic user experiences, business process focus, and community connectedness (see Figure 3):
Support role based designs. Information enables actionable insight by role.  Dashboards, reports, alerts, notifications, and filtered activity streams must deliver relevant information at the right time for the right person.  BI tailors to the needs of a role and should be self-service.
Deliver consistent experience across channels and deployment options. Information enforces consistency across deployment models, devices, and data sources.  Users create, read, use, delete, and share information in a consistent user experience.  BI delivers information any and everywhere.
Enable contextual,timely, and relevant delivery of information. Information knows when to provide; what information to; which users; where it makes sense in a business process.  Users receive activity streams of information based on preferences.  BI understands relationship history and how to deliver to the right person at the right time with the right authority.
Align with configurable and adaptive business processes. Information aligns with business processes.  Users easily modify processes to meet changing conditions.  BI provide user driven ad-hoc reporting and configuration.
Facilitate outcome-focus and results-orientation. Information ties back to goals and instills accountability for results.  Users gain transparency and insight in data.  BI tracks key performance indicators (KPI's) and related actionable key performance drivers (KPD's) across an end to end process.
Foster proactive, predictive, & actionable insight. Information identifies patterns and trends including intent and forecast projections.  Users respond with speed and accuracy to requests and apply new techniques such as key performance predictors (KPPs).   BI anticipates requests and supports decision making.
Empower all types of stakeholders. Information and results shared with internal and external stakeholders.  Users establish relationships and participate in communities and social networks.  Solution opens up the system to new types of users, collaborators, networks, and communities.  BI must be easy to use by everyone making decisions, not just business analyst gurus.  Solutions should also take into consideration accessible outputs for the visually impaired.
Provide pervasive and natural collaboration. Information shared and socialized with key stakeholders.  Users collaborate with internal and external stakeholders to review results, modify plans, add understanding, and communicate changes.  Collaboration should support decision making.  BI embeds knowledge worker skills into existing work flows.
Engage self-learning and self-awareness. Information supports decision support, presence, and learning.  Users build a history of interactions that drive preferences and identifies patterns.  BI applies presence and location information to offer relevant actions and remembers patterns and behaviors.
Permit security, scalability, and safety. Information supports role base security, data masking, partitioning, archiving, disaster recovery, and other security requirements.  Users shielded from cumbersome security measures.  BI meets regulatory requirements and disaster recovery thresholds.