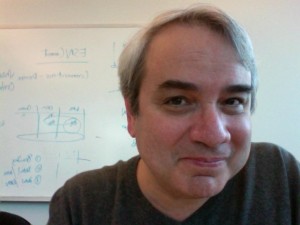 Listen to my conversation with Giovanni Rodriguez, chief marketing officer of e-business pioneer BroadVision, which recently launched a new enterprise social networking platform called Clearvale.
In this podcast, find out how business-to-business websites have evolved over the past decade-and-a-half to embrace social networking and learn what value enterprises are seeing from adding collaborative workspace capabilities to their web presence.
Listen to or download the 7:01 minute podcast below:
—Transcript—
PW: In the past few years, Giovanni, website platforms have obviously had to reinvent themselves — because we've seen the advent of social media and networking — and I know that's really brought about a huge transformation in BroadVision's own business, hasn't it?
GR: Oh yes, it really has. The transformation of the website is actually something that we probably understand better than most anyone, because we were there at the beginning. But the premise for our business has remained the same. We're really in the business of helping organizations understand how to gain a better presence on the Web. The big change today, of course, is that we're talking about the social web.
But: rough chronology of the evolution of the website — this is an over-simplification — first, there was the static site. We were in that business, we got a lot of the companies started with this thing called e-commerce. You look at the definition of 'site', from the Latin, it means the place that's occupied by people. I think it's hard to argue that those original sites were occupied by people. But if you fast-forward to the beginning of social media, where a lot of companies were building blogs, those sites became more interactive. And now today, the sites that are most interesting are the ones where you actually do see people interacting and talking amongst themselves.
So the rough evolution of the website is something that we've been watching for some time. When BroadVision realized that it needed a different way to fulfill its original mission, which is to help people gain a place on the Web, we started looking at enterprise social networking as perhaps the next direction for the company — and that's where we are today.
Right. I think it's quite interesting, actually, that in a sense the website got hijacked, didn't it, by the media businesses — who thought it was like a broadcasting model. And we went through this period where it was almost a detour away from the original sites, like the BroadVision e-commerce platform, that were very much applications. And of course, media people didn't understand applications, and it's taken a while for that world to catch up with what's actually happening on the Web. And now, you're able to come back as BroadVision with this new platform — called Clearvale, isn't it? — and that's oriented around making enterprise websites work for connecting with people.
Yes, that's right. And I think what we saw — with the expansion of the Web and what, 1.0 days, were just the early experiments with attracting people to websites and engaging with them — and I think the big problem for interactivity was that, to do this, you really had to have some pretty impressive technical skills. There weren't a lot of people in the world that knew how to code, and not a lot of people in the world who knew how to code HTML. So the first sites had to be constructed by people with special skills. And it took, I think, maybe ten years of dumbing down the tools, and providing platforms that allow people to do it themselves, to spark this thing called the social media revolution.
So we've got these platforms like Facebook and Twitter that have worked out how to do this. Why do we need another platform like Clearvale?
Well, there are a number of things that are different about enterprise social networking and consumer social networking. Of course, I can probably give you the view from BroadVision more accurately than any of my competitors. But there are a number of things. First of all, in an enterprise social network, I think what you want is the ability to create both private and public workplaces. Now, if you can stitch them together, like we can in Clearvale, so that they're navigable — so that a company can actually go from public to private, internal to external, rather easily — then you have something. And you don't have that, say, on the consumer side…