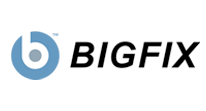 Tivoli's acquisition of device management vendor BigFix helps fix a hole that Tivoli's had for sometime: managing the software on all those little "end-points" outside of the data center. IBM's Tivoli portfolio is known for managing servers and other "big" aspects in the data center. Of course, their offerings and services scope all the way up to managing the processes that IT uses in its daily job – in addition to monitoring and managing infrastructure.
Managing "End-Points"
Tivoli hasn't had the most stellar reputation when it comes to desktop management: computers and devices used by employees. BigFix built its reputation in doing just this and has been extending into both the "enterprise"/server area and mobile. Hence, you'll hear the term "end-point" mentioned in this context more than a specific device. There's just too many "computers" hooked up to corporate networks now-a-days to list them: desktops, laptops (including Macs, which is new), smart phones, and other "it's really just a small computer" type devices.
Much of the focus here is one some classic enterprise-y desires: compliance, security, and asset management/discovery. The first two tend to boil down to "make sure devices don't run rouge software that can get the company in trouble" while the second revolves around the difficult task of keeping track of thousands of devices spread globally attached to the corporate network.
SaaS Angle – "BigFix Live"?