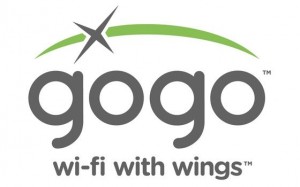 I have been languishing short of the dubious milestone of 3 million Delta lifetime miles for a couple of years now – having moved most of my business to Southwest. This year I am poised to reach it – not because of any Delta promotions or better service. But because of the GoGo service now available on most Delta domestic US flights. In fact, the lion share of the 950 planes today with GoGo service are Delta's.
I have used the service in about 10 flights so far and here are facts and factoids I have been able to piece together
The service leverages Aircell's experience around airphones we had in most seatbacks in the 90s. Aircell paid the FCC about $ 30 million to acquire licenses for the air-to-ground frequencies – a big difference from the satellite services Row 44 (that Southwest plans to utilize).  and others are rolling out. In the long run, with numbers starting to build nicely (1 GB of data per flight, 1.5 million websites accessed each as video below describes), that may turn out to be one of the best investments they have made.
The plane transmits via two underbelly blade antennae (7 inch, 1 pound ) made by vendors like Comant to 92 cell towers that can be accessed around the country and up to about 100 miles over international waters.
Each plane has 2 to 3 wireless access points and most flights the speed has been acceptable. I switch back and forth from my laptop to my PDA and have used Twitter and Google Voice SMS to stay in touch with folks on the ground. Both from a bandwidth hogging perspective and fellow passenger irritation perspective, VoIP calling is frowned upon on its network.
Some improvements would like to see: