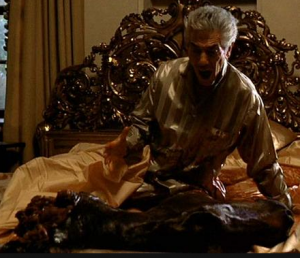 I felt like screaming like the man in the movie Godfather who wakes up to find the head of his horse, Khartoum in bed. I opened a package and all it had was a scalp – the top of a package I had sent a week ago with copies of my new book. On it was an ominous sticker " Received without contents Jacksonville, FL NDC". So, the post office in Tampa took a full package – my insurance receipt is proof of that – but something happened along the way to the National Distribution Center.
I am sure we will get to the bottom of it after the holiday weekend, but it did make me wonder what the market price of a used book from the package would be.
On ebay, 4 sellers have it priced above $ 65 plus shipping. Wow, the list is $ 39.99 but I thought as in software, nobody pays even list. amazon was selling new for $ 26.37, shipping included. So why the premium?
A friend emailed me earlier in the week "Amazon is saying your book is not available. … I hope that's because it is completely sold out, every single copy. "
So, I check and amazon shows some third party sellers have it. One of them wants $44.94 plus shipping. again more than list. Well turns out it was a false alarm…