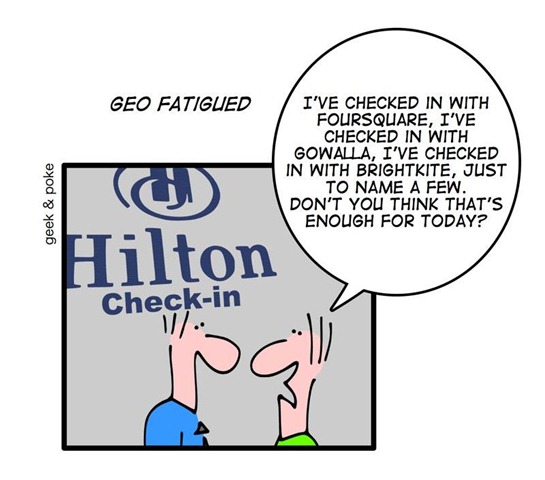 In my many years of consulting and writing about (generally) customer-facing technology strategies and (specifically) CRM, I've often discussed the need to manage the 'in-person' channel.  (As an aside, I discussed the 'in-person' channel in a recent Focus webinar.)
Quite typically, when working with 'B2C' companies, my assertions about the 'in-person' channel are met with quizzical stares – either from those executives who believe that their customers live entirely on the web and/or in their call centers – or from those who recognize that while 'in person' is often a very real channel of customer interaction, it can be extremely difficult and hideously expensive to manage – and even more so to analyze.
As an example, consider that retailers and consumer product manufacturers have been among the biggest spenders on CRM – in particular marketing – applications, yet have had immense difficulty connecting the 'last mile' – i.e. what the customer actually does in the store – except through proprietary (and massively expensive) loyalty programs.  It's one thing to build brand or build buzz – it's another thing entirely to understand how that translates to consumer behavior in the restaurant or store.
Besides, how many cards can (or, better question, will) a consumer carry?
Of course, this is precisely the problem that foursquare, Gowalla, and other location-based mobile applications purport to solve.  And assuming that the consumer is willing to 'check in' it would seem that those applications have the ability to deliver a valuable database of information on where and how consumers are spending their time and money.
As the recently-funded and generally acknowledged leader in this space, it would also seem that there is an opportunity for an ecosystem to form around foursquare – and it appears that is exactly what is beginning to happen.  For instance, I recently got an advance peek at Awareness Networks' new 'foursquare Perspectives' offering which provides retailers with a free and potentially very valuable aggregate view of who is 'checking in' – as well as where (if not why).  foursquare Perspectives is exactly the type of value-added service that can translate foursquare from a buzzy consumer 'game' into a platform that has value for real-world businesses seeking to better understand and influence consumer behavior.
Questions still remain to be answered, such as:
Will foursquare accept, support and endorse the rise of companies like Awareness building on top of their 'platform' (a la Twitter) or are they intending to build more of a closed, walled garden (a la Facebook)?
If they take the platform approach, how does foursquare make money?
What is the incentive for consumers to continue 'checking in'?  One could of course argue that foursquare's already-running couponing service is it, but will that scale?  It's also quite apparent that foursquare is a hip & 'buzzy' thing to do right now – what happens when that buzz wears off?
Are mainstream users going to brush off concerns about privacy and security as readily as today's early-adopter users do?  Speaking personally, I reject at least 2-3X as many foursquare 'friend' invitations as I accept – if you're not actually my (real-world) friend it's not happening.
Can this idea transfer from places to products?  I.e. foursquare might be a great tool for 7-11 – but how would Pepsi use it?  (as a board member at a soda company this is a topic very near and dear to me…)
Despite all of these questions, it's pretty clear that there's something important happening – and that the phone-as-loyalty-device is a powerful idea whose time has perhaps finally arrived.  A platform like foursquare gives the consumer the option to 'opt-in' (as they 'check-in') – consumers were rightly bothered by the idea of receiving unsolicited 'coupons' on their phones simply by walking past their local coffee shop, but checking in on foursquare is entirely voluntary.  If foursquare continues to succeed in driving those check-ins – and succeeds in building their ecosystem (which appears to be precisely what they're doing) – they could be a very big deal indeed.