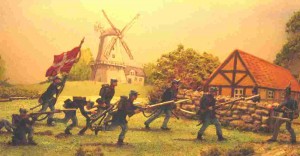 Big company battles, like real-world battles between countries, often center around obscure points of friction. The Austro-Prussian war had its Schleswig-Holstein, the Vietnam war had the Gulf of Tonkin incident, and enterprise software has application lifecycle management. ALM today is a relatively obscure point of friction between giants that holds the promise of igniting global conflict if… things either get out of hand or go exactly as planned, depending on one's perspective.
The warring parties circling around the issue of ALM can definitely promise global conflict if that is what actually happens – no less than IBM, SAP, Hewlett-Packard, and Oracle, to name only the biggest, are angling for position in the ALM space as a means to not just make some serious money, but reap enormous benefits in terms of added account control. Oh yes, and do something positive for their customers as well.
What is likely to happen is a further refinement in the on-going coopetition derby now playing out in the enterprise software space. My guess is that some partnerships will be strengthened – SAP and HP definitely,  SAP and IBM maybe, while other competitive lines will drawn with an even thicker marker: SAP vs Oracle (of course), Oracle vs. IBM (in case Larry hasn't made it clear enough), HP vs.  IBM (duh!) and, most likely as well, HP vs. Oracle.
Regardless of where the lines are finally drawn, it's clear that, even as the industry fears that industry consolidation means less innovation, the continually shifting sands around ALM are an example of how when allegedly big, slow, and indifferent industry giants start dancing, customers actually stand to benefit.
Here's the issue in a nutshell: It's increasingly expensive and complex to run large enterprise software implementations, particularly for global companies managing heterogeneous environments. Total cost of ownership is elusive, and the push for more upgrades from the vendors threatens to further increase TCO – any potential functional benefits to end-users from upgrades notwithstanding.
ALM has emerged as a way to tackle the problem – better lifecycle management, aided and abetted by better tools, means that companies can fine tune their implementations and upgrades to avoid waste, trim unneeded resources, rationalize overly complex portfolios, and otherwise run a tighter ship. Easy, right?
Like many things in life, ALM is great as a theory, but customers run into all sorts of problems trying to actually do something about it, so many that it's hard to find where to start. Heterogeneity is one of the big problems – managing the lifecycle of one app is tough, dozens or even hundreds of interoperating applications is an absolute nightmare to manage. Vendor lock-in is another: SAP's Solution Manager is the premier tool for SAP, but doesn't do anything to manage how PeopleSoft HR or Siebel CRM interoperate with SAP. And SAP guards its SolMan interfaces carefully, so that using third party tools to access SolMan and thereby access the keys to the SAP ALM kingdom is not something that just any partner or product can do.
Cost and complexity is another major problem: ALM approaches are traditionally people-centric and therefore expensive, and therefore form a hugely profitable business for the global systems integrators that do the lion's share of the ALM work. The historic price tags have been eroded by the emergence of a panoply of tools – IntelliCorp and Panaya in the SAP space, for example – but getting customers, and more importantly, global SIs to adopt the most effective of these tools is like getting a government bureaucrat to sign off on eliminating his own budget. Never very easy, however much sense it might make in the long run.
So, enter the four horsemen of the ALM world. SAP  has the customer base and the toolkit, SolMan, that its customers and partners love to hate. SolMan is big, complex, expensive to implement, and amazingly effective if only more customers would actually use it to its fullest. Oracle has another big, inherently heterogeneous customer base and a weaker set of tools – and therefore a much more open approach to ALM that invites partners to dig inside the inner workings of its eBusiness Suite in ways that would make SAP blanche.
IBM is in ALM in the dual role of tools provider – the Rational toolset, born like WebSphere from myriad acquisitions and technology roll-ups, is one of the best in the business – and as systems integrator, the latter role being the much more profitable and strategic and therefore influential inside IBM. HP plays in the ALM sandbox in two roles as well: tools provider (its testing tools are considered the industry standard as well) and systems integrator in the form of its EDS subsidiary.
What all these companies are jockeying for simultaneously, and in contradiction to each other, is the right to be the go-to-partner of choice for tools and services, and at the same time use their ALM efforts to maintain or expand whatever level of account control they currently hold. Wherein lies the complexity of the conflict.
Let's start with IBM. If you're IBM's Rational tools group, you want everyone – SI partners like Accenture as well as IBM Global Services – to use your tools to work with SAP and Oracle, and anything else. But, as a good partner, particularly to SAP, you want to make sure that SAP's Solution Manager is also in the mix – otherwise SAP would try to shut Rational out of the SAP market.
But if you're IBM Global Services you want to use Rational and SolMan and anything else you can get your hands on to "rationalize" the SAP customer base, commoditize SAP's Business Suite, and drive all innovation through Global Services in the form of custom applications, thus obviating SAP as an innovator. The less the customer ends up seeing of SAP or Oracle, the better. This Global Services vision is similar to conservative Grover Norquist's infamous (IMO) vision for shrinking government "down to the size where we can drown it in the bathtub." And to the survivor goes the account control.
Needless to say, this plays really poorly in SAP land. One of the tricks to IBM GS' vision is getting access to the interfaces used by SolMan to manage an SAP installation. SAP has continued to rebuff attempts by IBM to have this access, for fear that once those interfaces are open and available, IBM (or anyone else) can pretty much obviate the need for SolMan, and thereby undermine SAP's account control and its entire ALM and global support strategy, both of which place SolMan front and center as the key to the kingdom.
But, and there will be many more buts in this story, SAP and IBM need each other more and more, and the reason is a determined competitor named Oracle. Until the Sun acquisition, I had always assumed that Larry Ellison had wanted to get closer to IBM – and indeed most of his major acquisitions have included a huge IBM customer base. Now the blush is off the rose, and Larry's full-throated attacks on IBM are helping to drive Big Blue closer to SAP, even as the plot in the ALM conflagration thickens. So, SAP and IBM, even as they are dancing around the ALM question, are convening summits and getting CTOs together to talk about strategic interests, among them what to do about Oracle.
In this light, don't expect Oracle's position in the market be simple and easy to understand. Clearly, Larry hasn't left a lot of doubt whom he sees as Oracle enemy number one (today). But, meanwhile, IBM Rational is courting Oracle's eBusiness Suite (EBS) customers with a similar rationalization/TCO message that it has for SAP's customers. With a twist: there is no gatekeeper SolMan equivalent at Oracle, and Oracle's more open architecture means that Rational is able to do its work inside the EBS customer base without some of the problems it has inside SAP's market. And, at least according to IBM Rational, Oracle is responsive and interested in further collaboration in ALM.
Of course, IBM Global Service's vision for SAP works just as well in the Oracle market – or even better, as Oracle's portfolio is by nature heterogeneous and will remain so for the foreseeable future. While Fusion Apps will hit the market this year, their initial usage as a best-of-breed stable for existing customers means that the heterogeneity of the Oracle customer base will only grow, and with it IBM Global Service's interest in helping rationalize (can't help using that word at least five times in this post) the complexity of these customers' environments.
Getting a headache yet? Then there's HP: Sworn enemy of IBM, newly dissed partner of Oracle (it's a hardware thing), and top tools and implementation partner of SAP. HP is breathing new life into its Mercury testing tools line, and positioning itself to be a stronger partner to SAP. All indications are that SAP is biting, and that the two companies are finding a lot more common ground than they have in the past.
Part of this is what I hope is a realization at HP that it better get on the ball and pay a lot more attention to the enterprise software market – it's not a coincidence that two of the biggest acquisitions in the industry, Sun and Sybase, both had a lack of understanding of enterprise software at the core of their unfulfilled positions as long-standing market leaders. HP has historically fumbled that role too, but the company seems to be showing a renewed understanding of its role in the enterprise software market, and if this understanding can be translated into action, HP's role in the ALM mix will only grow (especially with EDS under its wing.)
Where does this migraine-inducing pas de quatre leave the customer? I believe somewhere between hell and the catbird's seat. Hell comes in the person of the sales rep trying to convince the customer that ALM is easy and that there's a single, easy to rationalize, decision on what the right tool and approach is. This is clearly an option-overload situation, and if you didn't get a headache reading this post you're sure to get one trying to sort through the options faced by a typical global company that very likely has all four Horsemen of ALM vying for a piece of the IT budget.
Seeing the customer in the catbird's seat comes, of course, from the scramble for advantage among these companies and the very option overload it has created. What I'm seeing from my version of the catbird's seat is a ton of innovation inside these four companies, and many others, as the opportunity for ALM riches and account control beckon.
SAP is beefing up not only SolMan but other parts of its toolset like Business Process Change Analyzer, which is trying to get a leg up against IntelliCorp's LiveCompare, a tool much in favor in the SAP customer base. IBM Engineering is building technology workbenches for its SI partners, and Global Services,  to help package ALM services to the SAP and Oracle customers. Oracle is pushing forward its support of IBM Jazz (though not officially on the Oracle website) and further opening up its apps to third party ALM tools. HP is upgrading its testing tools (they have an on-demand version of LoadRunner that runs in Amazon's cloud, taking a page from Panaya's cloud-based upgrade services). And on and on.
How this will all settle out is a guessing game today, but I believe we're talking about a long-running but low-level global conflict that actually promises to make the world a better place one day. I think that in the end IBM and SAP will get closer on the ALM front and the anti-Oracle front, but never so close as to hand the keys to the customer base – those SolMan APIs – to Global Services. HP and SAP will get closer too, and HP will continue to play counter-weight to IBM in the SAP world. In fact, my sense is that HP/SAP may be a faster and closer alliance than IBM/SAP in the next few years, based on the problem that Global Services presents.
Meanwhile,. Oracle will continue to be the company to watch as its post-Sun acquisition posturing gives way to a more carefully articulated market position. Like its software rival, SAP, it has reasons to be allied with the HP and IBM, and SAP too, if only for expediency's sake. But with planning for September's Oracle Open World now in progress, how Oracle will define itself in the market is becoming more than of academic interest. With ALM an even bigger problem in the Oracle customer base than in the SAP base, how Oracle responds to the ALM issue will have a major impact on what the marketplace looks like once the dust begins to settle.
So, as with any truly monumental conflict, it's impossible to tell by the early skirmishes who in the long run will prevail. What's clear is that this battle will go on for a while, and the casualties will start to pile up. But, if customers play their cards right, there's definitely room for their budgets and portfolios to come out on top. The market may be confusing now, but there's a method to this madness. Stay tuned as we all try to sort it out.