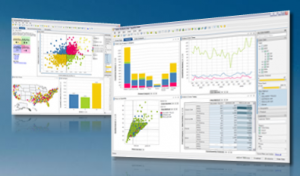 TIBCO announces their cloud-based BI/analytics today: TIBCO Silver Spotfire, and you can even sign up for a free one-year trial.
This shouldn't be a huge surprise to those watching TIBCO announcements to date: at their conference in May, "Silver Analytics" was mentioned in the general session as an upcoming product release, and they've made much ado about moving all of their other products onto the Silver cloud platform that this seems inevitable.
I haven't had a demo or a chance to play with Silver Spotfire yet, but from their press release, it appears that it provides the usual sort of easy-to-use BI capabilities plus a social aspect: collaborative building and sharing of reports, dashboards and other visualizations and analytics. Spotfire has made a name for itself as an incredibly easy to use yet powerful BI platform; moving this to the cloud and adding social aspects should help to push adoption of Spotfire as well as start to make BI a bit more mainstream.