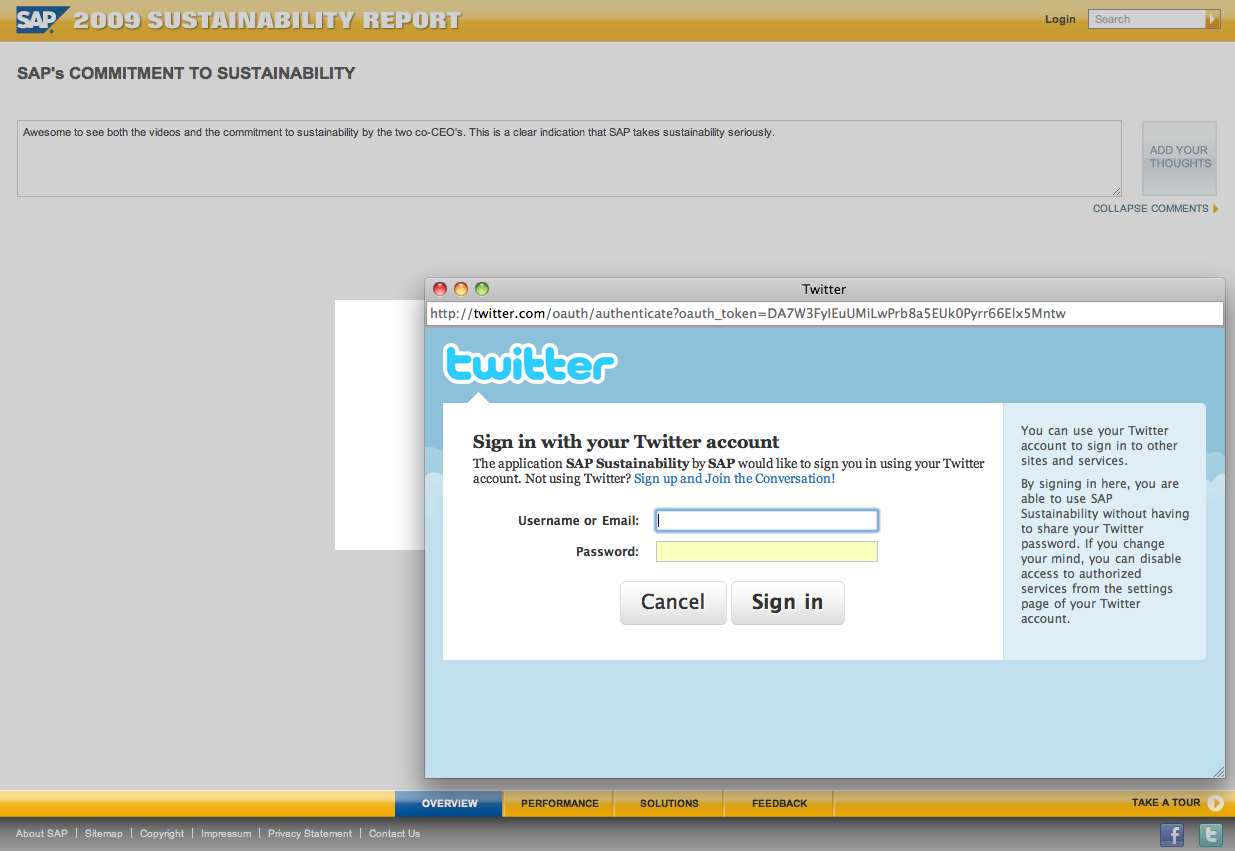 "The best way to predict the future is to invent it" – Alan Kay
Back in 2007 or so I had an epiphany about corporate social responsibility and sustainability. Until then I had been skeptical about CSR – which I felt was the proverbial lipstick on the pig. The guy that did most to persuade me of the value of CSR was SAP's James Farrar. He introduced me to Transparency International, after which I argued:
Like many others I have tended to view corporate social responsibility (CSR) with a great deal of suspicion. Its just puff, PR and flummery. Corporates try and make us think they have responsibilities and interests beyond profits and share price. Greenwashing, and so on. But spending time with the likes of the BT CSR team, I am realising we have a real opportunity here. The web changes everything, and spiking energy prices and global warming mean that CSR is being reassessed. Talking about efficiency is no longer the game. Now the CFO expects the organisation to actually deliver it. Sustainability is not just a buzzword any more, which means CSR is not window dressing any more either.

CSR is becoming a window itself- an important gateway between the business and us: individuals, customers and stakeholders. CSR becomes another breach in the corporate social membrane. But as Hugh MacLeod says "Nothing pokes holes in a membrane better than a blog." (for blog we could also read Twitter or Facebook).

IF CSR is already a window, or hole in the membrane, social software can accelerate the dialogue and flow of information.
The realisation that sustainability was beginning to really mean something helped to create a raison d'etre for Greenmonk: open data leads to better outcomes, which meant the redmonk model might make sense in some new contexts.
My vision for more effective CSR:
Reporting needs to be an ongoing process and conversation, not a once a year event.
Reporting needs to be more like an app and less like a document.
Data needs to be freely shared, rather than presented in static form such as in a PDF – organisations should offer sustainability reporting APIs.
Social. Web technologies allow us to put the social into CSR by engaging with a broader range of stakeholders.
Sustainability must be tied into general business reporting and strategy.
Sustainability must be a strategic imperative, not a PR-led effort.
CSR reporting must be more like an app, and less like a document.
I have to say SAP performed surprisingly well in terms of realising this vision in its last reporting round. Active data, Facebook and Twitter integration and so on. My colleague Tom Raftery was moved to write: SAP's latest Sustainability Report is teh awesome! SAP customers would do well to view SAP's work as a showcase for its new products in the space, and consider using the firm's frameworks in delivering their own 21st century Sustainability Reporting, Engagement and Strategy.
Things had moved into high gear in terms of delivering on that kind of vision when SAP invited me to be Chairman of the outside Stakeholder Advisory Panel last year, having helped with strategy the year before. The process was extremely interesting, and I will be writing it up in the next month or so. Anyway, here is the letter we wrote on SAP's Sustainability Report for 2009, which I take the liberty of including in full. My advice to you- go check out the report, then see the letter.
Challenging SAP on form and substance

The Stakeholder Panel was invited to bring external perspectives to SAP's executive management, to inform both the company's Sustainability Report and its sustainability strategy. We see these roles as highly complementary: reporting is a means to the end of defining and executing a business strategy that is articulated around clear sustainability goals.  We have approached our review with the objective of 1) to enrich SAP's sustainability strategy through a greater understanding of stakeholder expectations [SAP's Materiality Matrix] inviting readers to vote and comment on sustainability priorities], and 2) to increase and improve SAP's transparency, as a means towards greater accountability.  We are therefore pleased that the company has welcomed our input on both the form of its reporting and the substance of its actions.

Overall, the Panel is impressed with the scale and scope of SAP's ambition for its sustainability reporting. One of the most compelling aspects of SAP's sustainability strategy is its commitment to merge its values, which reflect a clear ambition to be a sustainability leader, with its corporate goals and core business strategy.  The Sustainability Report therefore serves the role of mission statement, stakeholder engagement tool and roadmap for what SAP has achieved to date and seeks to achieve in future".

The Panel greatly appreciates SAP's effort to make the Report more interactive, by opening up new engagement and feedback channels using social Web technologies, such as Twitter and Facebook. This strengthens the connection with stakeholders and opens the way for them to influence the company's behavior.  This is an aspect of the report which will not only benefit readers, but also promote wider acceptance of this model by other companies considering similar steps.

Promoting Software for Corporate Sustainability

Of particular note is the fact that SAP has now unambiguously embraced the role of enabler…