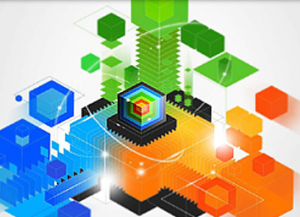 IBM launched a new mainframe this morning here in Manhattan, the zEnteprise – a trio of towers bundling together mainframe (the new 196) along with stacks of Power/AIX and x86 platforms into one "cloud in a box," as Steve Mills put it. As you can guess, the pitch from IBM was that this was a more cost effective way of doing computing than running a bunch of x86 commodity hardware.
(To be fair, there was actually little talk of cloud, perhaps 1-3 times in the general sessions. This wasn't really a cloud announcement, per se."Data-center in a box" was also used.)
TCO with zEnterprise
The belief here is two-fold:
Consolidating to "less parts" on the zEnterprise is more cost effective – there's less to manage.
As part of that, you get three platforms optimized for different types of computing in one "box" instead of using the one-size-fits-all approach of Intel-based commodity hardware.
Appropriately, this launch was in Manhattan, where many of IBM's mainframe customers operate: in finance. The phrases "work-load" and "batch-management" evokes cases of banks, insurance companies (Swiss Re was an on-site customer), and other large businesses who need to process over all sorts of data each night (or in whatever period, in batch), dotting all the i's and crossing all the t's in their daily data.
IBM presented much information on Total Cost of Ownership (TCO) for the new zEnterprise vs. x86 systems (or "distributed" for you non-mainframe types out there). The comparisons went over costs for servers, software, labor, network, and storage. Predictably, the zEnterprise came out on-top in IBM's analysis, costing just over half as much in some scenarios.
Time and time again, having less parts was a source for lower costs. Also, more favorable costs for software based on per-core pricing came up. In several scenarios, hardware ended up being more expensive with zEnterprise, but software and labor were low enough to make the overall comparison cheaper.
Fit to purpose
Another background trend that comes into play with the zEnterprise platform is specialized hardware, for example in the areas of encryption, data analytics, and I/O intensive applications. The idea is that commodity hardware is, by definition, generalized for any type of application and, thus, misses the boat on optimizing per type of workload. If you're really into this topic, look for the RedMonkTV interview I did with IBM's Guruaj Rao, posted in the near future.
While mainframes might be an optimal fit for certain applications, Rao also mentions in tbe interview, there are many innovations coming out of the distributed (x86) space. Rather than pass up on them because they don't run on the mainframe, part of the hope of zEnterprise is to provide a compatible platform that's, well, more mainframe-y to run distributed systems on. What this means is that you'd still run on Unix or Linux as a platform, but those servers would be housed on the zEnterprise-hosted blades; they'd be able to take advantage of the controlled and managed resourced, and be managed as one system.
On the distributed note, a couple analysts asked about Windows during the Q&A with Software and Systems Group head Steve Mills: would zEnterprise run Windows (Server. The short answer is: no. The longer one is about lack of visibility into source code, not wanting to support an OS that "drag[s] in primitives from DOS," and generally not being able to shape Windows to the management IBM would want. Mills said he "doesn't really every expect to manage Windows" on zEnterprise.
During that same Q&A, Mills also alluded to one of the perfect heterogeneity in one box scenarios that the zEnterprise seems a good technological fit for: many mainframe-based applications are served by a client and middle-ware tiers for their user-facing layers, 3-tier applications, if you will, with the mainframe acting as the final tier, the system of record, to use the lingo. You could see where the web/UI tier ran on x86, the middleware & integration on AIX/Power, and the backend on z.
The Single System, for vendors, for buyers
Everything around the server has become more expensive than the server itself.
–Steve Mills, IBM
The word "unified" comes up in the zEnterprise context frequently…