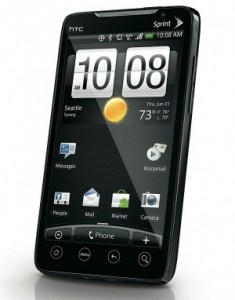 This week I picked up an HTC Evo to replace my trusty iPhone 3G. My reason for doing this is twofold, featuring a technical and a philosophical reason.
I should also take a paragraph to explain that this post isn't about what device is better because better is an entirely subjective quality but more significantly the reality is that the delta between the devices coming out of Apple, HTC, Motorola, and Samsung is so narrow that it is of limited value to determine that one device edges out another. The meaningful difference between Apple and everyone else is that Apple alone decides what, when and how you can use your phone and that is the major reason why I am leaving Apple (I also have no love for AT&T and find Verizon to be expensive when all the extras are added in).
The iPhone 4 is a really impressive device, probably best in class, but the incremental advantages it offers over the Evo simply can't overcome the the complexity of Apple's relationship with me as a consumer, whether it be their iron grip on the app marketplace or restriction of features at the behest of their carriers, like tethering. I'll still buy Apple's computers as long as they exist today, multi-use pieces of hardware free of unreasonable restrictions on usage but when it comes to Apple's mobile devices I am done with them.
One of the most subtle of shifts in how Android is different than the iPhone is the relationship the device has with my laptop computer, which is to say none at all. In order for an iPhone (and by extension iPad) to be truly useful it has to be synced with a computer at some point, whether for syncing contacts and address book or more significantly the ability iTunes provides to manage apps.
Android devices exist completely outside of my traditional compute experience, to date I have not needed to connect the device to my laptop for any function. Everything happens over-the-air (OTA) and you don't appreciate the significance of that shift until you actually live it. There are times when I want to get my files from one device to the other but Dropbox's service makes that a fairly trivial process.
The Evo comes with an 8gb microSD card, which I am assuming can be replaced with a larger capacity card. I particularly like the microSD card approach because it makes moving photos and media from Adobe Lightroom, my preferred solution, into the device an easy process. The card itself isn't conveniently located though, it's under the battery which means you have to turn off the device in order to retrieve the card, but you can also use a standard micro USB cable to connect it to your laptop, mounting it like an external drive, just like the iPhone. It used to be that moving files from devices to your computer was a hassle, but today it's a a breeze.
Speaking of batteries, the Evo does have crappy battery life however the one thing I can do with Evo that I can't do with an iPhone is replace the battery and I picked up 2 spares for $12 each which ensures that even on a long flight I will have ample battery life. I'm pretty confident that the battery life will improve once I finish geeking out over my new gadget and use it sporadically throughout the day like I did with my iPhone.
Last year I wrote a Droid review based on a phone my wife came home with, at the time I dinged the Android app marketplace for not having my favorite iPhone apps. What a difference a year makes, and this is perhaps the area where Android is rapidly achieving parity with the iPhone and potentially surpassing Apple… every iPhone app that I relied on is now represented in the Android market and these apps are not quick and dirty knockoffs but fully developed versions that take advantage of the many features that the Android platform provides.
As I look at Android right now I see a portfolio of well engineered devices that are by any measure on the very forward edge of mobile technology, an app marketplace that is equivalent to Apple's, and most significantly a sense of momentum that is closing the gap with Apple in every possible dimension, and all of these factors make me excited to experience the wave of Android tablet devices that developing.