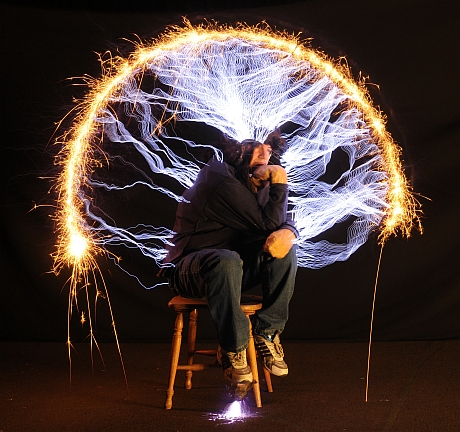 I am honored to beincluded in a list oftop thinkers in project management today created by on-demand project management tools vendor, LiquidPlanner.
The discipline of project management is changing rapidly, from static focus on Gannt charts and resource numbers torecognitionthat success depends on collaboration, communication, and smooth information flows across organizational boundaries.
Although any such list is incomplete, these folks are paving the way toward a new, and more sophisticated, understanding of project success.
Here's the LiquidPlanner list of top thinkers in project management today:
Steve McConnell, founder ofConstrux and author of several groundbreakingbooks on software development and task estimation. Steves estimation book was hugely influential to the design of LiquidPlanner in terms of our approach of using ranged estimates. Steve is one of the foremost thinkers today on the topic of software engineering and how the latest methodologies are bringing new efficiencies to light, enabling development teams to iterate faster and improve overall quality.

Bas de Baar. Based in the Netherlands, Bas is the man behind the popularProject Shrink blog which looks at project management through a humanistic lens. Bas understands that individual team members trump process and his blog digs deep into issues such as team dynamics, project leadership, and management techniques. His article,25 Sure Fire Ways to Motivate Your Team Members should be required reading for anyone who manages a team.

Michael Krigsman. Michael is the author of theIT Project Failures blog, which as the name implies catalogs how and investigates why so many IT projects fall flat on their face. IT projects are unique from other projects in that they tend to have their own unique complexities (distributed teams, firm deadlines, etc.). His blog reminds me of that demotivation poster that depicts a ship sinking behind a setting sun with the caption: Mistakes. It could be that the purpose of your life is only to serve as a warning to others. By chronicling these IT failures, we too can (hopefully) learn from the mistakes of others.

Elizabeth Harrin. Ive had the pleasure of speaking to Elizabeth a few times since starting LiquidPlanner. Her blog, A Girls Guide to Project Management, is a well rounded composition on virtually every facet related to project management. She also recently authored a well-reviewed book entitledProject Management in the Real Worldwhich includes more than 50 case studies drawn from a variety of industries. Her perspective as a woman in the project management discipline also informs much of her writing and provides some practical advice on how women in the field can better advance their careers.

Scott Berkun. While Scott doesnt write about project management exclusively, the core themes that he regularly touches on are wholly relevant. Having spent nine years as a program manager at Microsoft, he knows a thing or two about innovation and deadlines. Scott is author of several best-selling books (includingMaking Things Happen), and his highly-opinionated style shows that he isnt afraid to ruffle a few feathers. If you havent had a chance to see him speak, you should. Check out his classic lecture onThe Myths of Innovation delivered at Carnegie Mellon.

Rick Freedman. Rick is the founder and principal consultant atConsulting Strategies. If that werent enough, Rick is a prolific writer who contributes regular, highly insightful columns toTechRepublic andCIO Update and has also authored several books onIT consulting best practices. Rick has made a name for himself these past few years writing about agile methodologies. Hispost from the beginning of this year provides some great, practical tips for transitioning to an agile methodology.

Jim Highsmith. One of the coauthors of the Agile manifesto, Jim is another leading thinker on the topic of agile project management (in fact, thats precisely the title of his2005 book). If anyone understands the concept of uncertainty in IT planning, its Jim. He recognizes that software development is a constantly moving target and that in order for traditional project management practices to succeed, they have to be highly adaptive.

Glen Alleman. In addition to serving as a Vice President for consulting firmLewis & Fowler, Glen also authors theHerding Cats blog, which looks at project management from a variety of perspectives. As the name of his blog implies, large and complex projects often have multiple points of failure. From the mechanics of decision making and evaluating risk to estimation and scheduling, Glen brings the perspective of an experienced practitioner to bear on the quantitative aspects of project management.

Pawel Brodzinski. Pawel is another practitioner who shares his insights from the front line of software project management on the unambiguously namedSoftware Project Management blog. Like Bas de Baar, Pawel writes mostly about the dynamics of successful teams, the qualities found in effective managers, and practical tips for software teams to build better software. Best of all, Pawel has a very candid and often funny style which makes a sometimes dry subject very entertaining.

Johanna Rothman. Johanna is the founder ofRothman Consulting Group and author of both theManaging Product Development and theHiring Technical People blogs (as well as severalbooks on these and other related subjects). As a consultant, Johanna also has a great deal of experience with implementing Agile methodologies and holds a number of different workshops aimed towards helping teams realize their agile ambitions.
[Amazing photo of creative thinking from Peter Terren, who creates interesting experiments with Tesla coils, magnets, and similar objects of geek affection.]