Facebook launched a really interesting Questions product a few days ago and after trying it out I have a couple of thoughts on it that I would like to share. Simply put, this service builds on a well documented user behavior exhibited by millions of Facebook users who on a daily basis poll their "friends" using status updates that are questions.
Facebook Questions enables individual Facebook users to ask questions that are then displayed in the public news feed. Replies to the question are threaded under the originating question and the whole feature area is exposed to Facebook's search function. Anyone viewing the question and the threaded answers can click on buttons to indicate whether or not the question was "helpful" or "not helpful".
The integration of the feature (service?) is in the sidebar, the news feed, profile area, and a new Questions feature area devoted exclusively to Questions content. BTW, I really don't know the vocabulary that Facebook uses in reference to their user experience, any online links that lay it out would be appreciated.
Question is not something that companies can readily take advantage of because Questions is not integrated with Community Pages. Each question that is launched also exists exclusively within in full public view, meaning questions cannot be directed exclusively at the follower community for a particular profile.
More significantly, Questions focuses on questions with light, short-form answers, and what that means is that Questions is not applicable for use cases like customer support and social commerce and while there is a "helpful" and "not helpful" button on each reply the fact remains that this is not outcome oriented and no "official answer" capacity exists. In other words, there is no capacity for a customer service rep for a company, in the case of a service and support use case, to act as a moderator for content concerning their products.
While the above is all true I don't think it really matters to Facebook because they clearly have not conceived this service to be a company-to-person communication tool but rather a person-to-person one. They are committing that Questions will be available in community pages and have an API, but that is a future deliverable and if history is any guide… subject to change.
Facebook has two very distinct competitive targets with Questions, the first is obviously Google. A significant percentage of the searches performed on Google and other search engines are short form questions, as in "what the best taco truck in the Mission?" and "who is the guy in the Dos Equis commercials?". By excluding Questions from search indexes Facebook is clearly indicating that they want that search traffic to occur inside Facebook rather than in a search engine that brings a Facebook user in.
Facebook's product roadmap is an all out assault on search engines and by establishing a primary objective of diminishing search engine importance in connecting people with Facebook content. They very clearly has stated that they want people to dwell inside of Facebook longer and use Facebook's search capability to find content, Questions is a powerful weapon in their arsenal.
This product also represents a symbolic defeat for Microsoft with their very highly regarded Bing search service… it was Bing who first went all out with an ad campaign highlighting the weakness of search as a "decision engine", which is another way of highlighting the importance of the Q&A search behavior. If anyone should have launched a large scale Q&A service around a search engine it should have been Microsoft… once again snatching defeat from the jaws of victory.
The second category of competitor is the dedicated Q&A site, of which Quora and Hunch figure prominently as well as Google's Aardvark and Yahoo's relaunched Questions service. it's not unexpected that the Q&A sites have articulated a spectrum of reasons why what Facebook is doing is not competitive with them but I really don't think they believe that because it very clearly is competitive.
I really like Quora because they have a kick ass user experience and some remarkably good algorithms for suggesting people I should follow as well as building my own follow community. However the thing about Quora that wins hands down is the quality of the content, which is no doubt a reflection on the quality of the user community that they have attracted. Over time this is harder to sustain while at the same time Facebook's Questions corpus will feature higher quality providing they work on the mechanisms for enabling efficient surfacing of good content.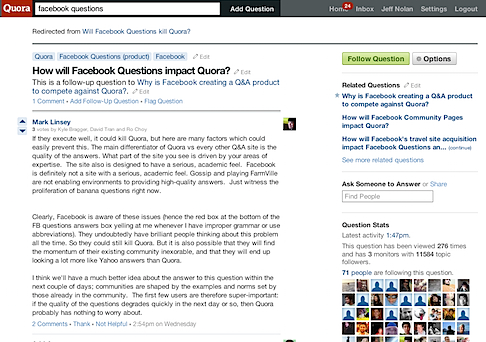 I like Facebook Questions a lot but am also pragmatic enough to recognize that it has some pretty big limitations when it comes to anything but person-to-person Q&A interactions, and their strategy of excluding external search from the content is also a risk because even the most die-hard Facebook users have ingrained behaviors that involve external search for finding content. Facebook's search is good but it's not the one I reach for first when looking for something.