It will come as little surprise to readers here that businesses this year have been getting increasingly serious about social media as they find that their customers are spending a rapidly growing amount of time there. The most recent numbers show that Americans are spending nearly a quarter of their online time in social networks, far ahead of other forms of Internet activity. The numbers worldwide aren't much different and implications for businesses are many and varied. I've explored these extensively before and it goes well beyond such ideas like "Facebooking" the enterprise. Yet due to the top-down way most organizations operate, businesses continue to fall behind what's happening in the marketplace today. Unfortunately, the underpowered, non-scalable, expensive, and fundamentally limited value creation techniques of yesteryear won't begin to suffice in today's rapidly emerging Social Business landscape.
Even as organizations have strategically started to embrace social business, the global changes driven by widespread social computing are still ongoing. A confluence of large scale behavior change and co-evolutionary Internet-based technological progress are driving important new trends in 2010. While some of these are somewhat early stage, a few are more advanced and nearly upon us. By and large, most of these are still under the radar of enterprises today. Yet each of these trends highlight key developments that will be absolutely essential for businesses to succeed in the very near future. Make no mistake, the future of business is now tied directly to whatever strategies and techniques work most effectively in a profoundly connected society. It's a world where knowledge is not only already produced primarily using social media but is instantly findable, accessible, virtually free, and superabundant. Thus, as businesses seek to address the disruptive challenges of social media using Social Business, anticipating what comes next will be an essential exercise.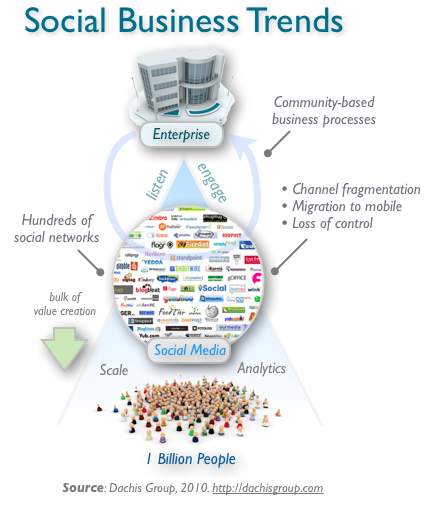 Here are the major trends that all organizations seeking to become 21st century digital natives should watch closely this year:
Six Social Business Trends To Watch
I'll be tracking these trends and other important ones we're beginning to detect in the coming months. What is becoming abundantly clear is that we're seeing a major inflection point this year with social computing that made the original uptake a couple of years ago look like a niche trend. This also means that the next generation of products and services must be deeply informed by these pervasive trends, and therefore seeing deeply into, understanding, and responding to their implications will be the key hurdles for most organizations.
What other trends are you seeing in Social Business today? Please add your ideas and insight in the comments below.