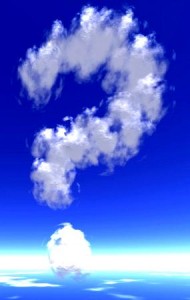 I recently watched a video of Ariba's Kevin Costello on Fox Business News. Well presented, Kevin deviates little from the high-level messaging that Ariba has adopted recently, both for customer and investor audiences. While the messaging might be working for Wall Street (I wish I purchased the stock a few months back given the run-up — and then sold it before the drop), my recent interactions, following my negative gut instinct regarding the cloud from LIVE, suggest that many procurement/finance types don't understand it or even care to try understand it. The few suppliers who "get it" might like the idea of selling in the cloud, but they have little choice in the matter around Ariba, as the buying organizations are the ones who drag them along for the network ride.
Here are a few anecdotal examples and observations I've heard both first and second hand from potential "cloud" customers as well as channels:
Potential P2P solution buyer told to a vendor (second hand story, but from a credible source): "Are you selling anything in the cloud?" Vendor response: "No." Buying organization: "Right answer." In this case, the organization wanted specific functionality and capability and found the cloud a distraction that put the vendors at a disadvantage because they thought they were hiding something (or simply didn't like the attempt to cloud over their historic legacy at the account).
P2P solution owner as told to a channel (story from a highly credible consultant helping with the selection): "I'm confused by the cloud — how is it different from buying SaaS or On-Demand eProcurement?" Consultant: "It's not — it's marketing." Solution owner: "We don't buy marketing, we buy procurement tools."