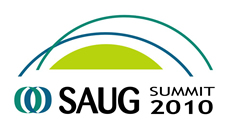 SAUG Summit Delivered Great Networking Opportunities And Information Exchange

Over 550 attendees converged on Sydney August 3rd to 5th, 2010 for the annual SAP User Group Summit.  Members were treated to 28 session, 7 keynotes, and 4 SAP 101 educational sessions.  The smart design of the conference gave attendees ample opportunities to connect and share ideas between sessions.  In conversations with over 100 attendees, four trends emerged:
Excitement in putting Business Intelligence (BI) to work. A combination of pent up demand, SAP marketing of Business Objects, and early adopters of BW led to many interesting conversations about the future road map.  Users sought clarity on the future direction and for the most part received it around BEX support and future investments.  Many continued to wonder if SAP would clean up its master data management strategy and address the need for a stronger next generation BI platform.
Considerable interest in how the Cloud can be used with existing SAP investments. Several sessions on the cloud were given.  Jeff Word, President of SAP Product Strategy provided an SAP Session on Cloud Computing.  The 6th  keynote on "Ready for the Cloud and SaaS?" provided users with 10 strategies to use Cloud Computing with or without SAP.  With so much confusion on Cloud terminology, attendees wanted a reset on the definitions and categories of cloud computing.  In each conversation, cost savings and flexibility drove the interest to consider cloud options.  A good mix of both technology and business leaders instigated the conversations.  Considerable disappointment emerged when they found out Business by Design would not be available to Australia until late 2011.
Concern about negotiating leverage in SAP contracts. In both the CIO session and in passing conversations, the majority of attendees expressed a concern about waning leverage in contract negotiations for the acquisition of new licenses or dealing with maintenance fees.  A few attendees expressed frustration that the SAP Australia head office ignored them when their contracts were written by the corporate entities in countries abroad.  They felt that SAP should act with one face to the world.
Questions on when to upgrade. Many attendees expressed concern on when to upgrade.  A large number on 4.6 and 4.7 saw no need to make the shift yet despite a few key features in Enhancement Packages.  In fact, many of these users augmented the gaps with SaaS solutions today in expense management, CRM, business intelligence, and strategic HCM.
A photo collage of the event can be seen below (see Figure 1):
Figure 1. SAUG Summit 2010 Flickr Feed

Source:Copyright © 2010 R Wang and Insider Associates, LLC. All rights reserved.
The Bottom Line For Users (Clients) – Get Active In The User Group To Gain Influence On SAP

SAP users and their user groups have a unique opportunity to put in the right infrastructure to engage in productive partnership with SAP…