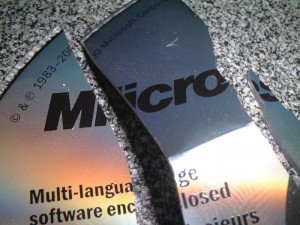 Every time I start thinking 'Microsoft is cheap (arguably true) and profitable (definitely true)' and start thinking about buying the stock, I pause as a result of the company's ongoing and utter incompetence in figuring out anything that looks like a future growth opportunity.
Replacing Steve Ballmer is the obvious and increasingly oft-rumored move, but as Yahoo has proven repeatedly, firing the coach offers no guarantees. It's time for the board to think bigger – it's time to think about a breakup of Microsoft. They have certainly built a portfolio of potentially interesting businesses – why not let them stand or fall on their own merits.
I might consider investing in the Xbox business (especially since it takes a crowbar to get my son away from it) but why do I need to buy Bing and Zune and Windows Phone to do so? Office and OS are great cash flow businesses but why not flow that cash to shareholders rather than an ongoing stream of also-rans and losers.
Love to hear what others think…
The big question after losing more than $6 billion chasing Google—and AOL and Yahoo—around: Is Microsoft getting anything out of its Internet quagmire?
But here's the disconnect. Microsoft has generated no return on its Internet ventures. It has been nearly a lost decade for Microsoft online. Looking at the profit and losses, you could make an argument that Microsoft would have been better off avoiding the Internet. Strategically, that argument is absolutely crazy. On the financial front, shareholders may just want a dividend.
Things could change. Perhaps Microsoft's online investment has helped it with the transition to cloud computing somehow. As things stand today, the Web is one big money pit for Microsoft.