Capgemini Changes The Rules Of The Cloud Game
On July 27, 2010, Capgemini announced a six-year cloud computing deal with Royal Mail Group (RMG).  The partnership brings the capabilities of Capgemini's Infostructure Transformation Services (ITS) and Capgemini Immediate to RMG.  As the UK's second largest employer, RMG employs 188,000 people, handles over 80 million items per day, and delivers over 150,000 parcels per day via ParcelForce, its worldwide express parcel business.  Analysis of the deal reveals two key points:
Royal Mail Group chooses cloud computing for concrete business value. RMG sought a new eBusiness platform.  Through the RFP process, RMG determined that traditional on-premise software and hardware solutions on single stack technologies (e.g. Microsoft, Oracle, and IBM) did not meet current and future business requirements.  Requirements included increased time to market to deliver new solution offerings,  pay-as-you-go services to meet the needs of the organization's personal and small or medium business customers, and support for its innovative parcel delivery services to keep up with the UK's online shopping boom.  RMG realized they would have to go best of breed.

Point of View (POV): With over 3000 web pages and 100 applications, RMG most likely felt the dual weight of transforming legacy applications and the need to free up resources for innovation.  As with many legacy systems, changes to their current eBusiness platform most likely took too long to implement and the integration challenges of managing a specialized and aging e-business environment became too cumbersome to manage.  RMG chose Capgemini Immediate because the solution delivered an ecosystem of solutions as one offering with Capgemini acting as both the services integrator and prime contractor.  RMG gained both the business value in best of breed solutions and the flexibility of the cloud computing model.
Capgemini Immediate mitigates the challenges of managing SaaS best of breed "hell". Capgemini's integrated best of breed cloud offering includes 18 initial SaaS and open source suppliers across the software-as-a-service (SaaS) and platform-as-a-service (PaaS) layers of cloud computing.  Key examples of core PaaS components delivered immediately to the customer include Drupal (Content Management), Apache Software Foundation (Common UI service), IBM Infosphere Datastage (ETL), Cordys (Business process orchestration), Attenda (Business activity management), and Talis (Semantic data management).  For example, the marketing and eBusiness SaaS offering includes Salesforce.com (Customer transactions), Demandware (eCommerce), Kognitio (Data Warehousing-as-a-Service), Ominiture (Web analytics), Eloqua (Online marketing) and Google (Search) see (Figure 1).

POV: Leading companies who seek best of breed approaches often face challenges in integration and managing multiple vendor contracts.  The Capgemini Immediate offering reduces the risk of best of breed because clients sign one contract and Capgemini manages the delivery risk, integration and management of partners.  In addition, the on-demand pricing and delivery model enables organizations to manage seasonal peaks such as holidays that may require excess capacity.  Best of breed solutions can link back to the RMG ecosystem with ease allowing for more choices among application solutions.
Figure 1. Capgemini Immediate Provides A Best Of Breed E-Business Platform In The Cloud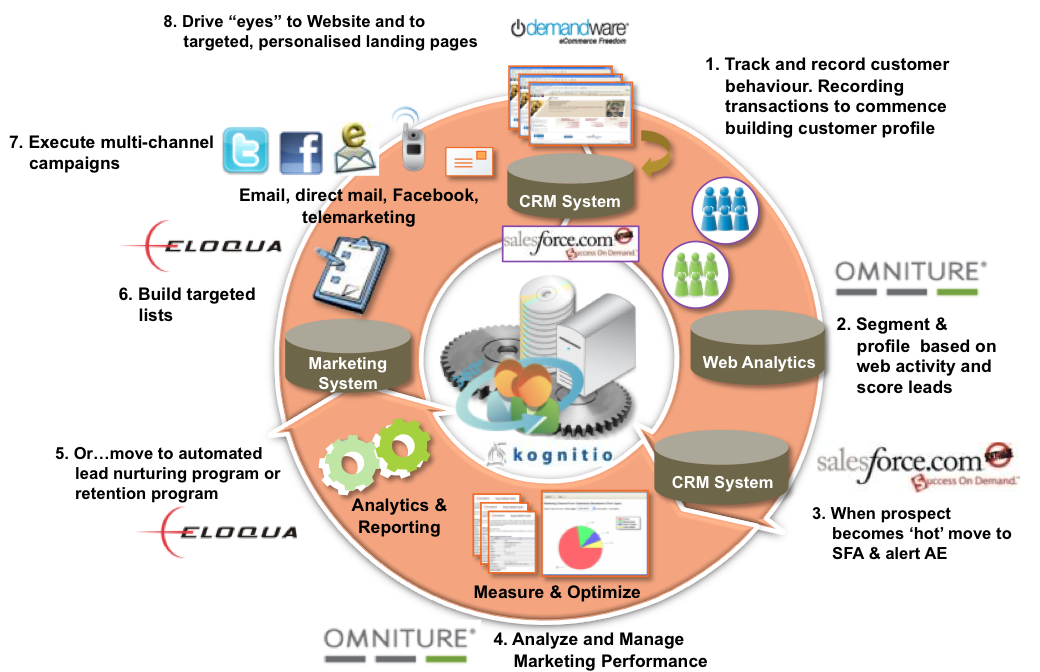 Source: Capgemini