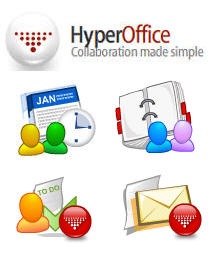 Listen to my conversation with Shahab Kaviani, EVP of marketing and product marketing at HyperOffice, which provides an online suite of collaboration and productivity applications for small businesses.
In this podcast, find out how small business use of online collaboration has evolved over the past decade, and learn why mobile access to applications on the go is one of the biggest adoption drivers today for cloud-based collaboration tools.
Listen to or download the 8:53 minute podcast below:
—Transcript—
PW: HyperOffice, Shahab, is similar to other online applications that people are probably familiar with, like Zoho, Google Apps, Microsoft Online Services (the online version of the Office and SharePoint suite). But these guys are 'Johnny-come-latelies' in the game compared to HyperOffice, which I think has been going for something like a decade now as a SaaS application.
SK: That's right. Our roots started with email about ten years ago, with document sharing and calendaring and contact management. And over the years, we've brought on a number of small businesses — typically small businesses that have anywhere from 5 to 100 employees or so. And we've listened to our customers over the years; the way that they collaborate has really emerged. They've moved from sharing documents, to wanting to have online projects, and access to spreadsheets; and customers' requirements have emerged.
We've responded in keeping up with an integrated approach to a collaboration suite and it's served us well. We're lucky to be in an expanding market with more and more distributed teams, more contractors, more offshoring, [which] drives a need to rely on the web to communicate and collaborate, and move out of email as the primary method to collaborate, which is really a key differentiator for HyperOffice. We are an email service provider but we attach that information to other capabilities, such as documents, projects, and so on.
Right. So that you bring all of the different forms of collaboration together, rather than being just a one-trick show — one-trick pony is the word I'm looking for there, isn't it?
That's right. You mentioned, for example, Google Apps and Microsoft Online Services. They've been very helpful for us to help educate the market that these different parts of collaboration really ought to be integrated. If we'd had this conversation three or four years ago, we had small businesses that might have said, hey, we're using BaseCamp for project management, and we're using email with our web hosting provider, and we're sharing documents through a VPN. And they were sort of doing what HyperOffice does piecemeal. And now with Google Apps and Microsoft BPOS, it's really helped illustrate that these things really are related, they ought to be in a single place. So that I think really our space has really become better defined over the last year-and-a-half as an integrated collaboration suite.
Yes, and of course, there are lots of different ways of approaching collaboration. I think many vendors have come into the collaboration arena from a starting point around which they've added lots of other capabilities. What are the capabilities that customers really most value about HyperOffice?
Well, as much as we try and use wikis, and web conferencing, and all sorts of other ways to share information, email is still the most-used way to share information. So we've invested heavily in providing a stable, business email service with mobile access. So we're starting to see very prevalent use of mobile devices to collaborate. So for example, if we're working on a project, I need to get an update rather than having a meeting; through my mobile device, I can see, here's the status with this project.
Or I can have access to a global address book without the need for servers and hardware. So — presuming the audience is aware of the SaaS benefits, software-as-a-service benefit — I think the integrated approach to having shared data on mobile devices and in different audiences; so they may be on Macs, they may be on PCs, iPhones, BlackBerrys.
So because you want to give employees, and contractors, and project team members the freedom to use whatever environment and devices they want, having a common ground or common glue that ties us all together is where HyperOffice really shines…