Cisco founded in , 1984 is a global technology powerhouse and a very admired corporation. Its seminal breakthrough of the router connecting two different computer networks laid the seed for the internet enabled networking industry.. Today, as we look ahead, Cisco is positioned to lead the evolution of the network to enable a 'connected future' which is increasingly "collaborative, video-driven, personalized, and mobile." With more than 7,000 patents, Cisco today is the worldwide leader in networking technologies that are changing how the world works, lives, plays and learns. The company's commitment to innovation, customers have been key to Cisco's success over the years—and it helps shape the future of the Internet by creating unprecedented value and opportunity for customers, employees, investors and ecosystem partners.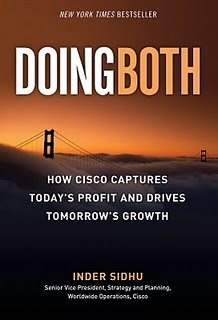 In less than fifteen years since it was started in 1984, Cisco achieved the feat of the most valuable company ever on earth when its market cap soared to 500 +billion dollars during the dot.com boom era. Cisco is one of Fortune's most admired companies, and being a technology bellwether, has successfully managed multiple transitions in its last 25 years plus years of existence. In the mid-1990s, for example, Cisco was strictly a router and switch vendor. But over time Cisco has moved from making gear for data networks to providing all kinds of equipment for voice communications and video systems, highlighted by products like Cisco TelePresence. The company has also become much more focused on software to make networks work even better for communicating, collaborating and entertaining. Perhaps more importantly, Cisco has also been able to reinvent its business operations – continuously!
Cisco is also widely credited as the tech company which has done maximum number of acquisitions in the last ten years and it scores as the leader in a number of areas and initiatives. Understanding Cisco's mind and its style of execution is something that every investor, partner, executives across industry show interest in. Inder Sidhu, Cisco's senior VP has come out with a lovely book titled "Doing Both" describing Cisco's strategy for success. Inder Sidhu points out that by pursuing new and existing business models alike- Cisco has positioned itself to be as nimble as it is strong and as flexible as it is precise. That, contends Sidhu helps Cisco when market transitions frequently! It should be noted that this book is not about technology. Instead, it addresses the fundamental dilemma that every business struggles with at some point – making a choice between two equally attractive strategic alternatives. Some of the nature of choices Cisco had to navigate through as brought out in the book include:
• Sustaining and Disruptive Innovation
• Existing and New Business Models
• Optimization and Reinvention
• Satisfied Customers and Gratified Partners
• Established and Emerging Countries
• Doing Things Right and Doing What Matters
• Superstar Performers and Winning Teams
• Authoritative Leadership and Democratic Decision Making
This is highly relevant in fast changing industries like High Tech where Cisco operates. Arguably, some may say that with globalization comes heightened competition and therefore the pace of change has substantially increased for every large industry in the world. The book brings how in Cisco's DNA the philosophy of exerting both choices is built inside and how in its various point in history, Cisco was guided by this approach leading to spectacular business success. The book brings out the various business models that Cisco planned to pursue and executed around Consumer, Video, Services & Collaboration space. As Sidhu shows how Cisco sort of walked the talk and shares details, the reading of the book becomes more interesting and as we reflect on these, realization dawns about the significance of how tough those decisions must have been to even conceive and still more difficult to execute!
The eight principal dilemmas that the book showcases from the prism of Cisco's decision making and execution of those make a fantastic reading. Among those covered are classic dilemmas like investing in incremental innovation vs breakthrough innovation simultaneously. Some might think that larger organizations are bestowed with the ability to take right decisions and make those decisions work out successfully. In reality, such a proposition is far from being true – swift decision making and flawless execution are not easily achievable inside large enterprises. Just imagine how may stakeholders need to align to create something new or modify something that exists – enormous pressures from different directions would make such shared objectives and well aligned execution to happen.
The strategic insights that the book provides are quite interesting- such as how Cisco manages the partner channel – how they changed the channel strategy, the globalization initiative of Cisco, deputing talents to potential spin-in's, the fabled Cisco operational committee's – Discussions centered around these areas provide a very powerful insight into the decision making rythms of the ever successful industry leader.
If we sort of step back from a very absorbing reading pleasure the book extends – (I finished reading the book in less than 24 hours after I got the book – this while attending to other things), I am drawn to the classical innovator's dilemma paradigm of Clayton Christensen- he has written extensively on what characterizes a sound management framework. In a nutshell he outlines the framework in terms of ability to have a good set of state mechanisms that executives would go through on varying circumstances and then by extension the mechanisms to make right decisions towards an efficient and successful navigation. Seasoned executives are sort of trained to parse through this framework many times to know what could be the most appropriate path to take in a given context. The grind of analysis of known contexts and the audacity to traverse new paths when faced with a new type of context makes radical winners (like Cisco) more special and those are the type of insights that this book brings out.
Inder Sidhu brings out the key tenets of of Cisco's strategy, very well with his theme based discussions . Cisco is an outstanding exemplar of a firm that has been able to combine profits and productivity – today's success – and expansion and adaptation in an uncertain environment leading to tomorrow's growth. This is the core theme of the book: the seamless fusion inside Cisco of highly optimized operations co-existing with truly flexible, innovative and adaptive continuous expansion. This is a tall order – very very few high tech companies have been so consistently successful as Cisco is in pursuing this strategy – in fact examples of companies that could not manage ever evolving transitions abound in the high tech space. Making spin-in acquisitions for talent, new ideas, new lines of business have proven to be a tough task to execute by many business
As a company besotted with growth, Cisco keeps trying multiple options and in the process tries many novel things to keep growing and maintaining the margins. The principles and the thought process behind the acquisitions like Linksys, Scientific Atlanta, Webex make great reading- I particularly liked the discussion about what new things Cisco got out of these acquisitions in terms of learning and practice knowledge besides their products and services – this is very very important to know that such a culture of reverse assimilation is institutionalized inside Cisco. The rest of the book is skillfully presented and interesting. It captures Cisco's multifaceted strategy well and is full of insights into global strategy and execution – It covers significant areas like how Cisco re-jigged its supply chain soon after it had to write off 2 billion dollars in the dot com bust attributed to supply chain build up, Cisco's globalization efforts including how it scaled up India as the alternate global headquarters outside of San Jose . For example in the case of supply chain, Cisco implemented a rationalization plan that brought 1300 component suppliers down to less than 300 in four years and it reduced the number of contract manufacturers that it worked with from 20 to 4 in the same timeframe. The book shows that today Cisco is able to handle two times the volume that it had during dot com days and more importantly could get this done with half the people! Successful companies need to take tough decisions and execute on those decisions very well and the book shows Cisco is no exception on this. Another important reading in the book is around Cisco's structure to bring executive teams together to drive new initiatives together and charter areas of growth around new ideas. Inside Cisco, powers have been shifted from traditional business owners –like head of sales, marketing, engineering into councils and boards, populated with executives across the company. These councils and boards complement the traditional hierarchy, providing scale and replicability of a centralized company and the speed and flexibility of a decentralized one. Cisco's IT absorption in the last ten years is well chronicled and the insights on how it is now trying to push the collaboration framework inside shows the unending zeal with which Cisco keeps pushing new frontiers. A very lucid description of Cisco's decision making mechanism is covered inside the book. Takeaway : A highly collaborative system can also move fast if properly driven and can yield significant returns.
The book , I think by design avoids picking on how Cisco outbid the competition in a myriad number of areas it competes – understandable as this book is meant to chronicle Cisco's internal process , systems and decision making mechanism. Some very powerful examples of failed business models pursued by Escada, Harley Davidson amongst others and how Cisco avoided getting trapped like them makes this book a comprehensive read.
I recommend this book as a refreshing and lively read. This is a classic book – one that chronicles the global strategy and high class execution prowess of Cisco , a top technology player in the world! Very rarely, we will see such a well chronicled book on a successful mega corporation come out from executives inside the organization – Sidhu is an exemplary writer – he brings the situation that he writes about right in front of the eyes of the reader and the discussions are centered around very important aspects of running global business. Highly recommended reading for business leaders and practitioners around the world.