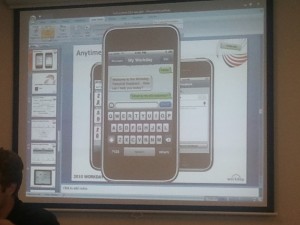 Monday afternoon, we were treated several briefings re:
– Workdayâs UI (User Interface)
– use of in-memory database technology
– how Workday integrates with customer and third party applications, and,
– the business intelligence functionality in the software.
Co-CEO Aneel Bhusri surprised the attendees with his discussion about a new development Workday is undertaking to create an iPad tablet based solution. This application would be in addition to the BI (Business Intelligence) Workday already possesses. The iPad analytics product would be targeted for CXOs and would be separately priced from other Workday solutions. The initial focus of the app would provide detailed KPIs (key performance indicators) about a business on a form factor that Workday believes will be of interest to CXOs. The company expects to team with major consultancies to populate the solution with appropriate business and vertical KPIs. Aneel also indicated that this solution will also be available on desktops.
There was also another conversation at the event that involved the desire of Fortune 500 firms wanting to use certain social network technologies…