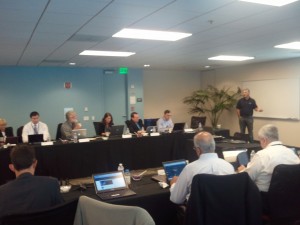 Enterprise applications vendor, Workday, invited twenty top analysts to the company's first briefing day. The event offers lessons to the enterprise industry for creating transparent and open dialog with industry analysts.
Fellow Enterprise Irregular, Naomi Bloom, describes the situation in a blog post:
Workday held a briefing yesterday for twenty of enterprise softwareâs toughest and most knowledgeable analysts.  Workday had much more to say about their technology and business strategy, about their underlying architecture and object model, and about whatâs cooking in the Lab than theyâve revealed thus far to this type of audience.
Another Enterprise Irregular, Zoli Erdos, explains the level of depth and preparation that Workday brought to this party:
[A]bsolutely intense, very open, and, boy, they did take the âTechnicalâ part in the name seriously..  There was no marketing fluff, just information, information, information. I am still trying to process all I absorbed â more detailed analysis to follow ⦠unless my esteemed colleagues beat me to it.
Yet a third Enterprise Irregular, Vinnie Mirchandani, was impressed with Workday's energy and willingness to answer tough questions:
Few vendors have the guts to be open to such a smart and opinionated bunch as Workday was during its Technology Day yesterday. Like a marathon tennis match with plenty of volleys and lobs and aces, the back and forth was something to watch….

[T]he last time I can remember such an energetic session was during a visit to SAP in Walldorf in 1997.
Enterprise analyst, Mike Fauscette from IDC, reinforced these views with comments in a blog post:
[Y]ou have to give them credit for inviting 20 of what are probably the toughest group of software analysts you could assemble in one room, to the inaugural event.
STRATEGIC ANALYSIS
The event was successful for five reasons, which I present as lessons to consider:
1. Compelling story. Interesting content is the foundation for everything else; sparks won't fly unless you've got something worthwhile to say.
2. Everything on the record. Without exception, Workday presented the entire day on the record for publication and Twittering. Most vendors lack the confidence to discuss their challenges and limitations so openly, which made Workday appear honest and authentic.
A Twitter transcript, showing approximately 850 tweets, is appended to the bottom of this post. You can download a PDF file containing the entire Twitter transcript and judge for yourself.
3. Knowledgeable presenters. The speakers were all experts in their respective fields rather than marketing spokespeople, which allowed attendees to push the discussion hard. The interactive format encouraged analysts to ask in-depth questions of the Workday team.
4. A great audience. Workday invited experienced, smart folks who all possess the background and context needed to understand the presentations. Magic happens when great presentations meet the right audience.
5. Solid infrastructure. Workday arranged seating as a horseshoe, rather than classroom style, to encourage discussion. Excellent wireless networking and many power strips made connectivity to Twitter easy, which sparked interest from a larger community of interest. Never underestimate the power of infrastructure.
My take. Openness and transparency create an environment where healthy discussion can arise spontaneously. At the same time, transparency involves risk and Workday did receive some critical feedback from the audience. Most importantly, however, the analysts generally came away impressed, which of course, was Workday's ultimate goal.
—————-
Here's the entire Twitter transcript – click here to download the PDF file.