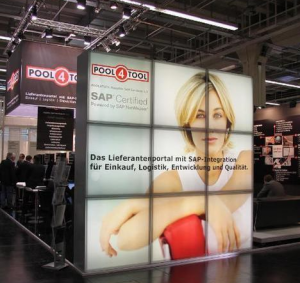 In yesterday's early morning post (
E-Sourcing Evolves: Looking for Differentiation and Getting Past Basic Functional Sameness), I shared a few thoughts about the way I personally see the overall e-sourcing landscape evolving. To paraphrase all 600 or so words of the spend diatribe, this market has generally moved towards overall parity for basic capabilities. Yet if you begin to look around the fringes of sourcing at both functionally related (e.g., supplier management, spend analysis, performance management, quality, etc.) and industry-focused (e.g., manufacturing) areas, there's still significant innovation and differentiation.
One such vendor who has taken a vertically focused approach at sourcing and related areas for manufacturers is Austrian-based Pool4Tool. Pool4Tool initially developed applications focused on basic sourcing and collaboration, but has since expanded its solution portfolio into other areas we'll discuss in our forthcoming analysis. In a series of posts looking at their capabilities, I'll profile how they're succeeding in delivering a new type of manufacturing sourcing value, beating out better known competitors at industrial bellwether companies throughout Europe (and soon, most likely, the US market as well).
I'll begin the series in this installment by providing a bit of background and context on Pool4Tools' history, architecture and go-to-market strategy, and also how they fit into the broader solution and technology-environment landscape. In subsequent follow-ups in the coming weeks, I'll offer an in-depth look at their technology and how their sourcing capabilities are differentiated in the market. To begin, Pool4Tool has quietly built a respectively presence in Europe and is just beginning to ramp its North American efforts. The company has over 50 employees, including 18 focused on software development and another 10 focused on support, testing and related areas. Pool4Tool is closely held by the its founder and general manager, Thomas Dieringer, as well as the firm's employees and a single private investor, and appears on solid financial footing for a company its size.
When we started our conversation, it became clear that the roots of the company are engineering based, in contrast to a number of other sourcing providers over the years that came out of a services or solution orientation. But perhaps most interesting from a development perspective is that the Pool4Tool application is built on, drum roll please, PHP (on top of a broader open source LAMP stack)…