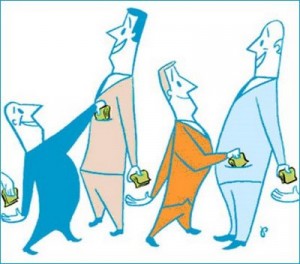 InfoWorld reported the latest on a federal case involving alleged kickbacks between some of the worldâs largest systems integrators and hardware manufacturers. Several firms have settled with the government while others are maintaining their innocence.
There are a couple of pieces to this story that really got my attention. For one, a former Accenture executive allegedly took approximately 700,000 pages of material with him when he left the company âmany of which involve HPâ. That is an impressive quantity of material and a quantity that would suggest the whistleblower involved might have been planning this for some time. Think about how much paper that is. If a ream of paper is 500 pages and 10 reams come to a case, that's 140 cases of paper alone.
The other item of interest is that some of the parties donât seem to understand the conflict that referral fees introduce into the procurement equation. Yes, itâs ethically correct that parties inform the buyer that these fees exist. However, how can a consultant or systems integrator even pretend to be providing impartial advice and counsel to clients that are selecting new software or hardware if their employer benefits from steering the business to one provider over another.
This issue is at the heart of the difference between a reseller and a consultant. A consultant is supposed to be a professional that puts their clientsâ needs/wants/business ahead of their own. I believe the following acts are not the acts of a professional consultant but rather speak to the acts of a self-interested integrator:
– An integrator recommends their client license a software product over another because the integrator has more people on the bench available to implement the recommended product. This is made more egregious when the recommended product is a better fit for the client.

– An integrator recommends their client choose a product without disclosing the cross-marketing fees/referral fees that will go to the integrator when the deal closes

– An integrator staffs a software or hardware selection with project team members who only have experience with one product and that is the product the integrator wants the client to choose.
These commissions or referral fees are problematic as they introduce BIAS. From a professional standards basis, consultants should avoid even the appearance of impropriety. When an integrator pursues these referral fees they should distance themselves from doing evaluations for clients. And, that is a dilemma as these referral fees are paid precisely because the vendor is steering business to another firm. In other words, an unbiased consultant should never take referral monies if they want to remain independent, transparent and acting in a fiduciary manner. Resellers or integrators who are paid commissions or referral fees need to be honest with themselves and admit that they are merely an extension of the hardware or software vendorâs sales force. To accept payment for referrals is to be paid for selling product. Thatâs a conflict of interest if one is also presenting themselves as a neutral evaluation partner.
The cases InfoWorld is reporting also suggest that the customers involved in these deals knew about these economic relationships. That adds another dimension to the case as customers canât claim they were hoodwinked if they had knowledge of the referral relationships. Since these are governmental transactions, Iâm perturbed that governmental bodies may have hired integrators to do selection or evaluation work when these firms had a clear conflict of interest. If that is the case, then both sides may be culpable.
I know some integrators claim that their referral fee programs donât impact their impartiality as the people involved on the evaluation projects do not directly benefit from the fees. Thatâs a stretch in my opinion as the project team will likely get a lot of âadviceâ from other executives in the company suggesting a number of reasons why the deal should go to one vendor over another. Even if the referral fees are never disclosed to the evaluation team, the evaluation team would need to question every iota of âadviceâ itâs getting internally…