Recessionary Forces Challenge Organizations To Not Only Right Channel, But Also Personalize
Organizations with e-commerce initiatives face a flurry of competitive forces that challenge existing assumptions put in place a decade ago.  On the operational efficiency front, organizations must battle reduced product margins, shorter product life cycles, greater pricing transparency, and increased friction in multi-channel sales.  From a strategic differentiation point of view, organizations must enhance product offerings with services, improve the customer experience with loyalty top of mind, and tailor personalized experiences that support self-service options and mobility.  In addition, as customers have shifted their buying behaviors, social channels gain importance in how organizations engage their key stakeholders.
E-Commerce Evolves To Meet Next Gen Requirements
Given the landscape, organizations must adjust to less control of their business than the prior decade.  The rules have changed.  Buying behaviors have evolved.  Consequently, organizations must relearn and reengage to revive their e-commerce initiatives.  They should establish trust, not obfuscate through half-truths.  They should focus on influence, not attempt at regaining control.  Consequently, e-commerce must play a key role in the transformation of the customer's buying experience.  In fact, next generation e-commerce initiatives must address 12 shifts such as (see Figure 1):
Ownership. Governance transitions from a siloed role to part of the overall buying experience.
Approach. Organizations shift from top-down messaging to bottom-up advocacy.
Business requirements. Efforts focus on completing industry vertical specialization.
Marketing style. Initiatives target bolstering brand trust.
Channel management. E-commerce re-integrates back to the overall buying process as a significant entry point to customer lifetime value.
Business process. Functional excellence grows into end to end perfect orders.
Personalization. Improvements in technology enable tailored buying experiences.
Business analytics. Business intelligence moves from basic reporting to real-time decision support.
Social media. Non-existent programs evolve to address one of the greatest trends of the decade.
Product margins. Organizations must evolve to grow profitable revenues.
Product life cycle. Decreasing product life cycles require better inventory management and demand planning.
Deployment options. Multiple options exist and organizations have more opportunities to experiment with try and buy SaaS alternatives.
Figure 1.  E-Commerce Evolves To Meet Next Gen Requirements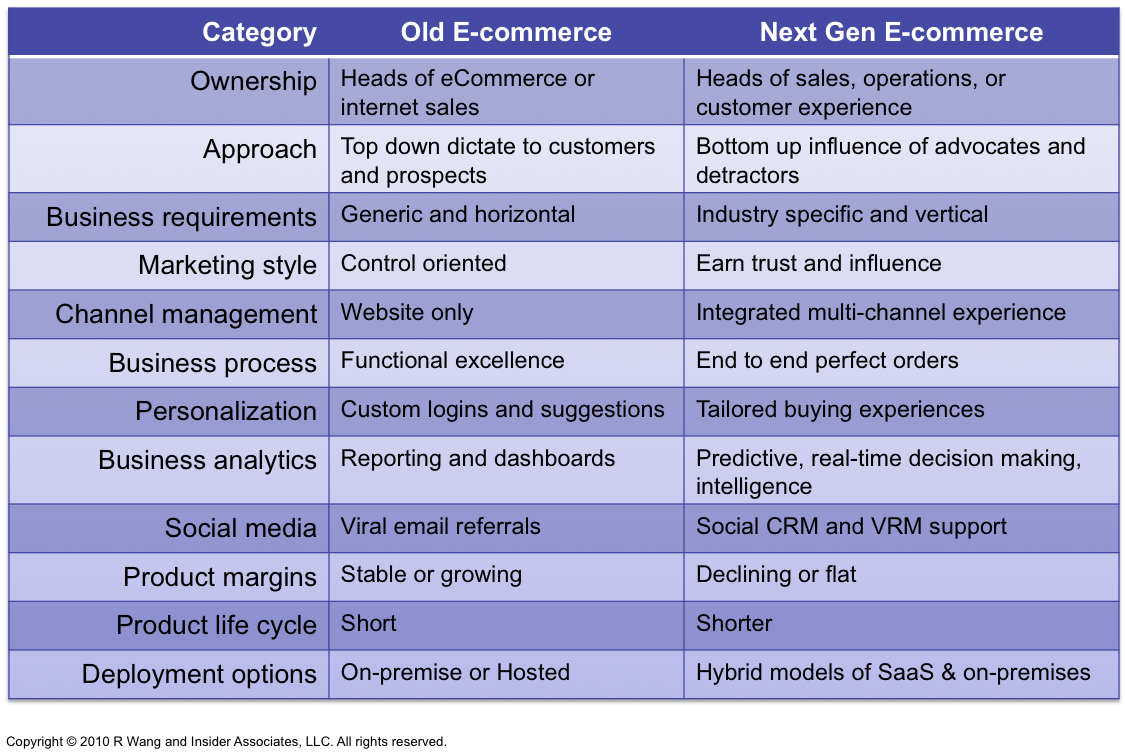 Response To Mobile, Social, and Cloud Macro Trends Reflect Latest Priorities For 2011

The competing needs to optimize while innovating appears throughout the Q3 2010 Software Insider survey of 135 organizations with e-commerce initiatives.  Respondents selected their top 5 priorities for the next 12 months and the findings show:
B2B e-commerce initiatives focus on a vertical last mile build-out of existing efforts. Customer self service (60.24%), vertical requirements (56.63%), product and service sales (51.81%), multi-channel selling (49.40%), and integrated support through chat emerge as the top 5 priorities for the next 12 months (see Figure 2).  Given that all but 11 of 83 surveyed respondents have initiatives greater than 7 years old, organizations face a serious need to renew existing programs.  Increasing competition requires operational efficiencies in right channeling services and integrating support capabilities through chat.  Vertical requirements improve the relevance of offerings to meet specific industry-specific challenges.  Product and service sales reflect the shift from manufacturing to distribution and related higher margin revenues from installation, service plans, and warranty management.  Multi-channel selling reflects the need to integrate existing e-commerce efforts with other B2B buying experiences.  Of interest, social business and social commerce still remains a lower priority for B2B organizations.
B2C e-commerce findings indicate greater emphasis on a personalized buying experience. The 61 respondents ranked customer self service (62.30%), product and service sales (57.38%), stakeholder driven personalization (55.74%), multi-channel selling (52.46%), and end to end "perfect orders" (50.82%) as the top 5 priorities (see Figure 3).  In fact, consumer expectations for greater levels of personalization drive organizations to apply full-featured e-commerce to mobile devices, add location based services and augmented reality to enhance buying experiences, and reward customer loyalty with earned value programs.  Perfect orders must address a seamless experience from opportunity to order capture; order capture to order fulfillment; order fulfillment to order completion; and order completion to collection…