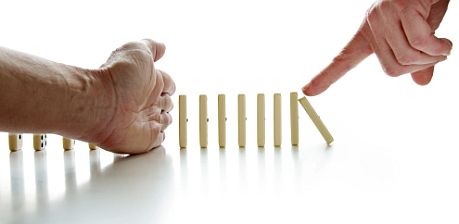 The National Audit Office (NAO), an official UK watchdog agency that operates independently of government, announced recommendations calling for "a central, mandatory system" of IT project reviews. Such efforts surely will interrupt the negative domino effect of IT-related waste, failure, and inefficiency.
The move follows similar measures advocated by federal Chief Information Officer, Vivek Kundra, in the US.
Related: Federal gov't gets serious about IT failures
The press release describes why the NAO made these recommendations (emphasis added):
Central government's high-risk projects are frequently large scale, innovative and reliant on complex relationships between diverse stakeholders. Such projects frequently present a level of risk that no commercial organization would consider taking on. Projects can fail to deliver to time, cost and quality. Assurance provides information to those involved in projects, helping decision makers to be better informed and reduce the risk of project failure.

The NAO estimates that the total cost to government of assurance for high-risk projects is £8.3 million [$12 million], which is minimal compared with the £10.5 billion [$16 billion] of annual expenditure on the 42 projects tracked within the Major Projects Portfolio. If assurance helps prevent just one of government's high risk projects from a serious cost overrun, the size of the potential saving more than justifies the investment.
I have embedded the entire report, titled, "Assurance for High Risk Projects," at the bottom of this post.
STRATEGIC ANALYSIS
The most striking aspect of this report is the cost comparison between risk prevention and money spent. The NAO advocates spending $12 million in assurance on projects totaling $16 billion, which is less than one percent of the total project cost.
This amount represents absolutely extraordinarily cheap insurance against failure and waste; however, without seeing source data, I am skeptical the cost of assurance is this low.
Regardless of the exact numbers, it is clear that project and program assurance should be a critical component of all IT organizations. The report states that government projects "frequently present a level of risk that no commercial organization would consider taking on." I believe this is not accurate, since project failure rates in the private sector also remain perennially high.
My take. Most sophisticated IT organizations would claim to have elaborate quality programs in place. In my experience, typical project (or portfolio) QA offers a limited project management-centric view of the world. These efforts ignore the broader context and drivers of success or failure, which is one major reason that failure rates remain so high.
It's heartening to see governments taking the lead on this important issue, acknowledging that failure is a critical matter and demanding improvements.
Assurance for High Risk Projects