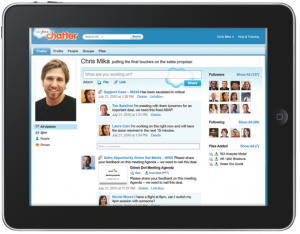 I'm at Salesforce.com's Cloudforce event in London today, where there's a lot of talk about Chatter, the vendor's social collaboration platform. There are several announcements coinciding with the event, in particular Chatter Mobile, which takes Chatter out onto iPhone, iPad, Blackberry and Android. Also of interest is the news that social stream aggregator Seesmic now integrates Chatter as one of its feeds.
With these announcements, Chatter is starting to grow up and demonstrate how social networking tools can actually deliver business benefits if they have the right capabilities and are tuned to the needs of an enterprise environment.
Chatter (as I've covered here previously) allows users to track data as well as people: both internally, for example open support cases, credit alerts, regularly updated documents such as slide decks, price lists and commission plans; and also externally, for example updates to contacts from Salesforce.com's recently acquired JigSaw application, which 'crowdsources' up-to-date information about contacts and organisations.
One of the most compelling attributes of Chatter is that it makes real-time communication and collaboration really easy — especially in comparison to current enterprise collaboration tools, which rely heavily on email and on shared web pages. Salesforce.com has customer case studies, as well as its own experience internally, that show that it's fairly typical for sales teams to see email traffic cut in half when they introduce Chatter.
Staying on top of social network information streams is often a challenge, and in a business context it's important that key messages are spotted and acted on. There are a number of different ways of filtering the information streams in Chatter so that a worker can home in on the conversations and data feeds that are important to them. I'm told that early adopters have especially welcomed the recent introduction of groups, making it possible to tune into the conversations from certain teams.
The big advances with Chatter compared to more conventional collaboration platforms are how easy it is to put messages into the stream for collaboration purposes. This is partly because Chatter is integrated into the Salesforce.com application interface (or Force.com UI), and partly because the short message format is much easier both to compose and to read. Dropping in links and attachments is really easy too.
The mobile application adds to that effect. It looks especially impressive on a touch screen device (so here's another reason to equip your sales team with iPads), incorporating many of the time-saving touch-screen gestures that Apple has made so familiar to many of us in the past couple of years. But it's also important that these smart devices have built-in capabilities such as cameras, which can be adapted to the needs of the application. For example, sharing a quick visual sketch of an idea is as simple as scribbling it on a scrap of paper, photographing it and posting it to your Chatter stream. No more faffing about with inadequate whiteboard applications, just jot, click and go.
The next phase is to integrate the corporate Chatter stream with other conversations happening in the outside world. Loic LeMeur, founder and CEO of Seesmic, joined Marc Benioff on stage today to show off precisely that capability. Seesmic already aggregates more than 40 social networks and geolocation applications. Now it aggregates Chatter so that sales, marketing and support staff who need to see what people are saying out in the outside world can do that alongside their Chatter stream and bridge across different streams when necessary. Available as a browser app this week, the app will be on the iPad soon and Android next.