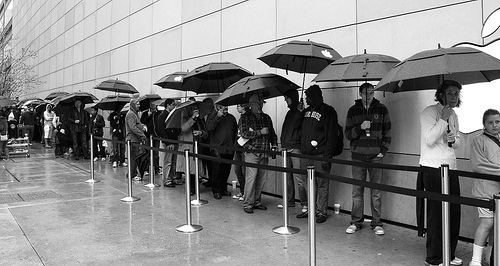 (photo cc attrib. pntphoto thanks!)
I have seen several keynotes from software executives lately. I recollect that all of them had iPads in them.  Seasoned software executives have been getting positively giddy about the iPad.
It has given Steve Jobs a sales force that he didn't know he had. It seems without really planning for it, the iPad has become the must have enterprise device.
But what I've not yet seen is the must have enterprise application on the iPad. Yes, I've seen some neat repurposed reports and simple entry screens  but I've not yet seen an application that makes me sit up and say wow, that is a new and fundamentally better process enabled by the device.  So far the innovation is all about Apple.
If the iPad  means that enterprise software companies build executive dashboards and actually get executives engaging with the software, then fine, okay, that is an improvement from where we are today, but it misses the big opportunity.
Just  fixing the executive user experience has a whiff of the Potemkin about it. It would be a whole lot better if the iPad helped to prompt a rethink of how everyone interacts with enterprise software. Today the iPad merely illustrates the chasm between the typical enterprise software user experience and delightful design.
Related articles by Zemanta