I have spent the last few days here at SAP TechEd 2009 trying to learn about SAPs vision for the future of social in the enterprise. I have been to both TechED and SAPPHIRE before, and I usually came away with the sense the SAP isn't thinking about social. All of that has changed now however, and more and more executives are discussing the role of social thinking in the future of SAP.
One prominent part of that is tonight's "Business Process Expert's Slam" in which Gravity will be demoed.
Gravity is a prototype developed by SAP Research in Brisbane, Australia and SAP NetWeaver Development providing real-time, cloud-based collaborative business process modelling within Google Wave. Google Wave is Google's new real-time collaboration platform that combines features of e-mail, social networking, wikis and instant messaging in one integrated browser-based client.

We have embedded Gravity as a Google Wave "gadget" that can be added within the Google Wave client. Leveraging the collaborative features of Google Wave, all business process modelling activities get propagated in near real-time to all other participants of the Wave.

Gravity – Collaborative Business Process Modelling within Google Wave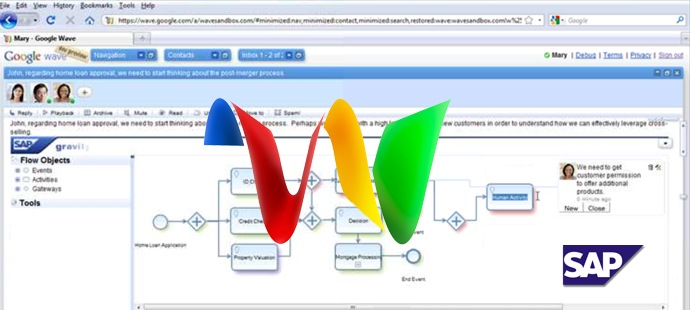 Even though Gravity is a research project at SAP and nowhere near being a full SAP product, it represents some of the new opportunities that are available to companies through the integration of web-based services and existing enterprise applications.
Gravity allows users to design new business processes together inside Google wave, bypassing less flexible methods of BPM collaboration.
Another interesting piece of news is that SDN (SAP Developers Network), which is one of (if not the) most successful B2B communities in existence, with 2million+ members, has integrated LinkedIn profiles directly in to the existing user profiles in the system.
This type of integration is a key part of our implementation philosophy, which includes integrating Open Source, Vendor software and web services such as Google Wave, LinkedIn and others in to the enterprise infrastructure.
How much Social Business Design thinking is there in the future of SAP? The truth is that SAP itself does not change quickly. This is, contrary to popular belief, an advantage much of the time and not a disadvantage. Many SAP customers benefit from long term support and predictable future roadmaps. There will always be rumours and rumblings about new social initiatives at SAP, such as their recent Jive partnership through Business Objects, but SAPs core business will likely remain focused on their core set of business management tools in the near term.
However, SAP's entire suite is incredibly open. Developers can access any of the data contained within an SAP deployment and there lays the opportunity for short term innovation. The Gravity project, and ESME before that, are prime examples of how a piece of software that seems to be otherwise very monolithic and slow moving can be extended to include Social Business Design thinking.
Related articles by Zemanta