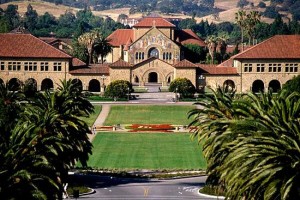 In the process of preparing for my speech for the inauguration of the Alexandrian Innovation Zone, I had to think about Silicon Valley, its history, its defining characteristics and which of these characteristics are "exportable."
Starting with a bit of history (you can find a lot more detailed historical accounting in Steve Blank's blog), Silicon Valley was created over a period of 60 years and today is the home to roughly 10,000 companies employing 1M people. Its growth and success were based on multiple waves of technological innovations: electronics, semiconductors, computer hardware, software, biotechnology, internet, and more recently cleantech. This 60-year period has been marked by several ebbs and flows through which we kept our strength and optimism. The US government played an important role in the creation and success of Silicon Valley. First, it is important to remember that the US government played a very important role in launching Silicon Valley and keeping it going for at least the first 10-15 years of its existence. As early as the 1950s several companies were spun out from Stanford University to develop microwave technology for the Cold War under government contracts. During the 60s government-sponsored projects around spy satellites and ballistic missiles gave rise to many successful semiconductor companies. It was since the late 60s, along with the rise of institutional venture capital, that academic and private sectors drove our region's success. However, with subsequent technology waves, the government's role became one of providing the right incentives for people and companies to jump in, but then become less involved.
The establishment and enduring success of Silicon Valley is based on several factors, all of which comprise important and necessary ingredients:
The area is a magnet for top people.

Silicon Valley is not about the people who live here, it's about the people who are attracted here.

They create a diverse network from a variety of disciplines and backgrounds.

Entrepreneurs, academics, investors, commercial and investment bankers, accountants, and lawyers make up Silicon Valley's network.

Also, this talent is coming here from around the world.

For example, more than 50% of Silicon Valley's companies are founded by immigrants, not "local" talent.
The Valley's culture which is rather unique and is the combination of several elements itself.

It combines

a risk capital culture, driving venture capitalists to invest where others fear and where financial returns match the risks taken,
a risk employment culture,

driving people to forego the financial stability that employment in a large corporation brings and work in a startup in order to achieve technological success and financial independence,
a celebrate success culture, under which making money is as important as advancing technology and creating a successful product,
a learn from failure culture, where failure is acknowledged as much as success because there are important lessons that entrepreneurs carry from each failure to their next effort,
and finally a culture that celebrates technology entrepreneurs as heroes.
Silicon Valley is blessed with top academic institutions, such as Stanford University and Berkeley that try to bring on their campuses the world's best students, professors and researchers, and view commerce with enthusiasm rather than disdain as the only way to sustainably serve the community around them. It is also home to several national research labs, such as the Lawrence Livermore National Laboratory, and SLAC that strive to be the best in their fields and attract government and industry funding to conduct basic research.
Silicon Valley is the headquarters of many large technology companies (many of which started as venture-backed startups) that play multiple roles in the ecosystem.

They collaborate and partner with startups providing them with revenue streams, help them shape their product, and give them access to their clients. They train the next generation of executives that will go on to staff the startups.

Oftentimes, they even acquire the startups providing profitable exits for founders, management teams and investors.

The area is at the forefront of modern legislative and legal infrastructure for company creation and dissolution, hiring and rewarding the best talent, capital formation and allocation, IP protection and licensing, and exporting and importing of products and technology.
Finally, Silicon Valley's top quality infrastructure from the multiple means of transportation, to buildings and other facilities suited for every type of technology and budget, to telecommunications and reliable electricity supply, and its temperate climate that provides an environment where people want to live and work.
These characteristics have led to the creation of a virtuous cycle of continuous innovation. Top talent is coming to Silicon Valley and become engaged in an organic, Darwinian process that results in the best companies rising to the top, has led to the emergence of global companies like HP, Intel, Genentech, Apple, and Google, to name but a few, and has made California's economy one of the top in the world. Many of these characteristics are importable but others may not be. As Margaret O' Mara states here it is not enough to just state that you want to establish a Silicon Valley-like region and expect to automatically have its success. The success of the various Silicon Valley-like efforts around the world will largely depend on deciding whether these characteristics are "importable" by a country, i.e., do they fit its culture, as well as on how well and how quickly these characteristics can be adopted and properly adapted to those environments.
Related articles by Zemanta