Starting a little over five years ago, workday quietly went about the business of redefining ERP software. After spending a day with the team at its first ever analyst technology summit yesterday I have to say that they are not being quiet anymore and with good reason. The management team reads like a who's who of software innovators, many from the glory days of PeopleSoft and led by co-CEO's Dave Duffield and Aneel Bhusri. I know this team well, having spent a few years at PeopleSoft myself in the mid to late 1990's so I'm not particularly surprised to find a lot goodness here. And you have to give them credit for inviting 20 of what are probably the toughest group of software analysts you could assemble in one room, to the inaugural event.
Workday's vision is to redefine ERP software not only from a business / delivery model prospective (SaaS / cloud) but also from the focus on usability and modern design. Business is becoming people-centric (people as the platform) and workday is approaching its software from that basic design premise, a very powerful concept. Software and technology, in particular ERP have gone through a few phases; the mainframe, then the shift to client server, the emergence of the Internet and the subsequent advance of the social web, the rise of mobile computing and global hyper-connectivity.  Many of the enterprise systems in use today are still based on designs and technology from a previous phase, and the user experience is quite dated. Workday claims to be the only modern ERP system in the last decade, and while it's a little more marketing than actual fact, it does make one think.
So what did I learn about workday:
Current Offerings: Core Human Capital Management (HCM) [benefits, compensation, absence, performance management, staffing, succession, worker spend management], Payroll, Financial Management, Higher Education, Spend Management and Services.
Delivery / License model: SaaS / subscription pricing (single price for all modules currently and no extra charge for storage, although they are planning on providing some tiered pricing for higher data volumes), multi-tenant – by their definition they are "real SaaS" (off premise in shared datacenters, pay as you go, all customers on the same code base, multi-tenant, virtualized for scalability and updates are included in the subscription)
Average contract term: 3 years (but Aneel indicated that many larger clients are pushing for 4 years to lock in pricing)
Current customers: ~160+
Employees: ~630 2010, targeting 1100+ in 2011
Growth: YTD ~130% (no revenue numbers released, they're still private). Targeting 100% per year growth.
Product focus: "all roads lead through HCM" – focus was initially on building out a solid core HCM SaaS product. Targeting large multi-nationals. Core HCM is there today, payroll is moving up the size curve and currently is in the upper mid to lower enterprise, but hitting stride this year; talent management 2010/11; project and spend management 2011 and financials is in smaller mid-market currently with a target of hitting the enterprise in 2012. They plan to be a full ERP by 2012.
Usability and user experience is their key differentiator in the apps market
Largest Deployment: 100,000 employees, average deal in pipeline today is ~10,000 employees.
Biggest driver for enterprise customers to move to workday / SaaS: painful and expensive upgrades, instance consolidation and aging user experience.
Verticals: Targeting services but have customers in high tech, financial services, healthcare, higher educations (just closed their first deal) and some in manufacturing (but they are emphatic that they are not targeting manufacturing)
Distribution Strategy: Direct for enterprise and upper mid-market, indirect for small and lower mid-market
Biggest Competitors: Most often compete against legacy apps but they are focused on SAP (and they claim that they are winning in HR), they think that Oracle is more focused on competing  with IBM.
CRM solution: partnered with salesforce.com (salesforce.com is a workday customer as well)
Questions for Aneel: "Who do you admire in the apps/tech space?" – salesforce.com, Google and Amazon
Platform: They do have a solid platform that includes integration (more on that later) but that are not planning on offering it as PaaS. They are an apps company.
Average Time to go live: 4-5 months on first phase
Design Focus: People and work ("not who works here but instead here who works?") – strength from the core – worker – work – performance. Easy to use including search, tags, links, self-service, collaboration, contextual apps, mobile and personal productivity. HR designed for business users not just for HR professionals
New Release process: 3 releases a year. The whole process takes no more than 6 weeks to completely migrate everyone. Every customer has a sandbox copy of their production data and gets to preview the coming release there. All major new features are delivered turned off. Workday is the first customer live on every new release.
Development cycle: agile process, 8 weeks development, 5 weeks validation and 6 weeks deployment. The new development cycle starts simultaneously with the deployment phase.
Technology: Open standards, open source stack, object oriented, in-memory processing, metadata based, multi-tenant and elastic processing. They use MySQL for the underlying persistence data store.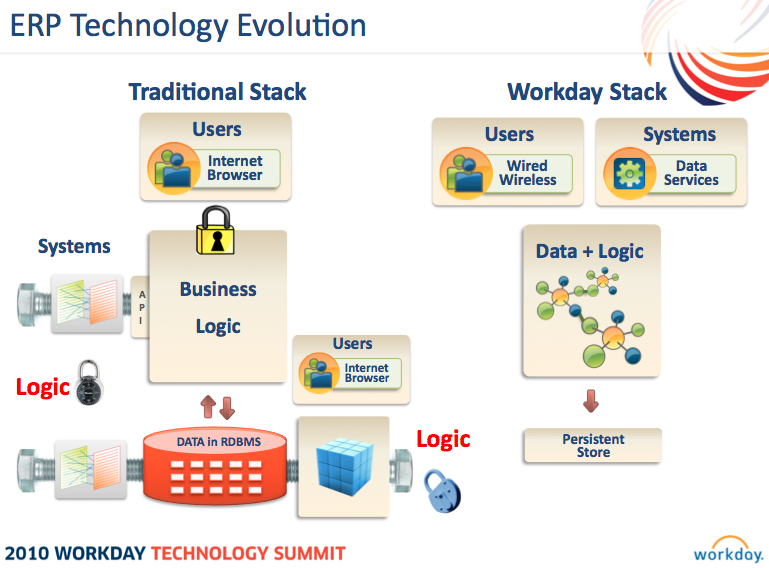 User Interface: Design goal is enterprise class technology that feels like a consumer applications. Adobe Flex based "clean and simple with the wheel paradigm for non-power users". The definitional app development process enables consistency in the UI. The use of the UI server allows the apps to scale, facilitates rapid development and enables multiple end user device support. Key interactions are developed for each device but the content is populated by the UI server which can dynamically generate UI forms, hierarchies, and grids. The UI containers are developed for specific devices and the device framework enables multiple device support. From a mobile perspective they have a 3 tier approach, tier 1 – completely native app, tier 2 – native app / shell with HTML / browser for transactions and tier 3 – browser only. Currently the iPhone is the only tier 1.
Next big innovation: C-level apps (executive mobile) that are focused on KPI's and predictive analytics. They will be designed and deployed on the iPad.
Collaboration and social: They have embedded collaboration around processes (comments / sharing) but currently that is it. When pushed on why no social focus on the roadmap they stated that their customers are not asking for it (in fact the customers are scared of it from a privacy, security perspective). The executive mobile initiative was prioritized higher and got scarce resources rather than a more social collaboration initiative. That said we did later hear from the new workday Labs group and they have some very interesting social initiatives that are being studied for the future.
Workday Labs: Organization that is tasked with driving innovation and future enhancements into the product. They are currently looking at things like natural workspaces, data filters, collaboration and mobile.
Integration: Options are – 1. web services API (filtered data where you want it), 2. Prebuilt Integration Networks (HCM, Benefits, Spend, Payroll and Financial) and 3. Enterprise Integration Builder (forms-based integrations) and 4 Integration Studio for complex integrations.
Analytics: Embedded and designed to work in context with the current user system activity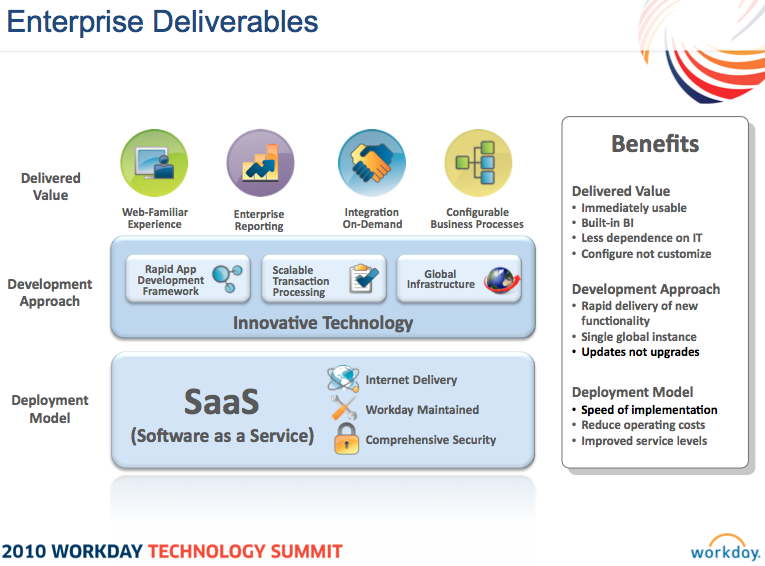 So in summary I like what I see so far. The user interface and the focus on user experience does deliver a more modern enterprise system. I think users will find the interface clean, simple and very familiar to other consumer experiences online. The architecture and development processes should deliver a very scalable enterprise class SaaS experience. I suppose I would have liked to see a lot more in the way of collaboration, particularly around social collaboration and ad hoc interaction, including activity streams, but I guess I'll just have to wait and see if the new workday labs helps drive some of that into the product. I think they're missing an opportunity to be a thought leader around social, even if many enterprise customers still deny that they will (or in most cases already are) use social tools in their businesses, but then I would think that.