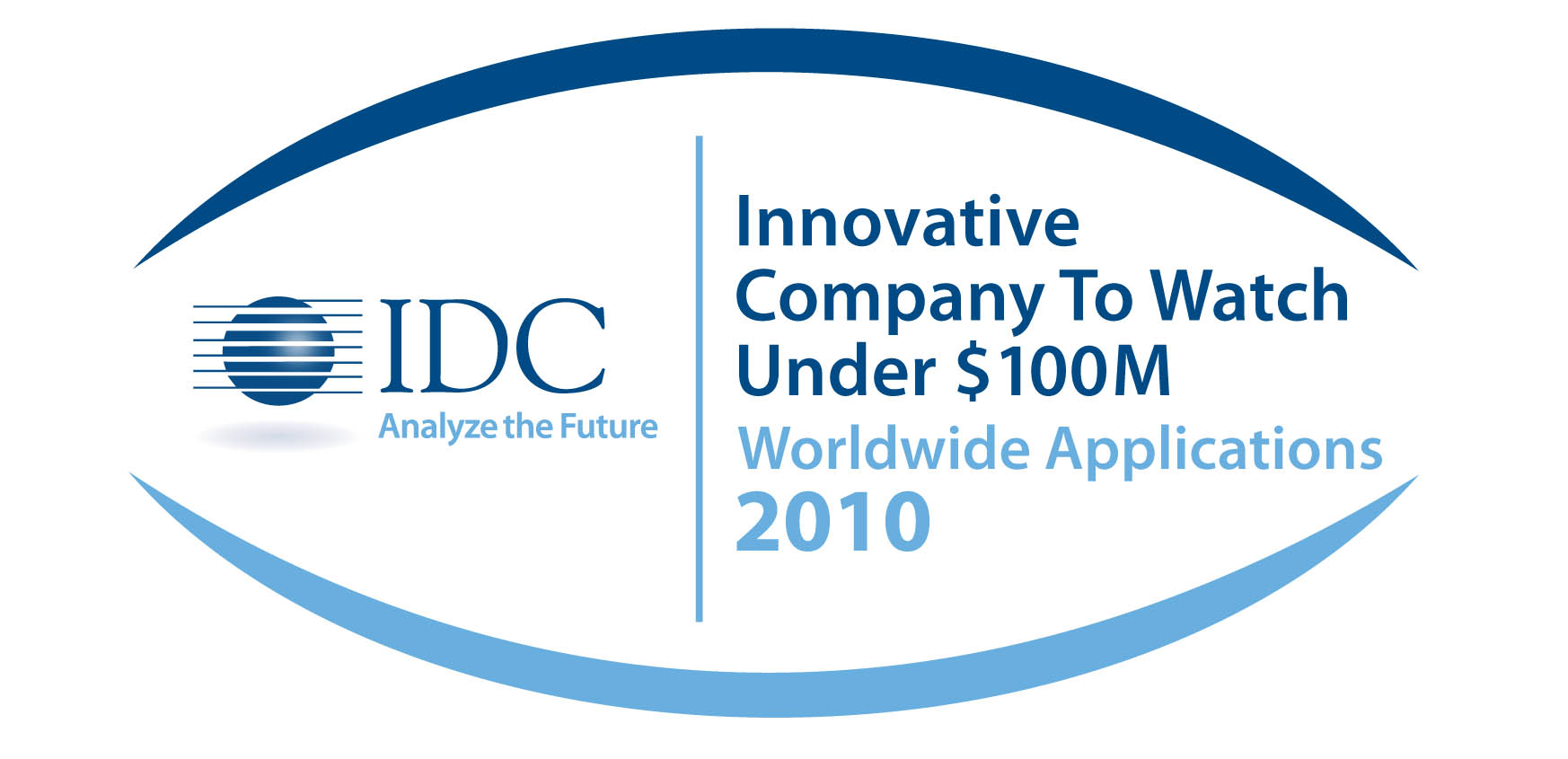 For the second year in a row IDC has sponsored the Innovative Company To Watch Under $100M contest to find key vendors that are advancing efforts around the trends we publish in our Top Ten Predictions series of documents each year in the applications, applications development and deployment, and information access markets. My group is responsible for the applications markets and we published the results for the applications markets in IDC Doc# 224842 (subscription required to access the document on IDC.com) last week.
To focus attention on the innovations in software applications, we solicited entries for our Innovation Awards contest from vendors with less than $100 million in revenue and  driving change inthe  applications markets today specifically around three trends tied to the 2010 Predictions document. In addition none of the 2009 winners were allowed to submit this year unless they had launched an unrelated product line from last year's submission and that new initiative fit one of this years categories. The 2009 winners were: Atlassian, Clarizen, Inc., Igloo Inc., Intacct, Jive Software Inc., Kaltura, RumbaFish Technologies Inc., Service-now.com, Telligent, and Trampoline Systems, Ltd. For this year the trends are:
Enterprise application vendors' go-to-market strategies. Enterprise software application companies with innovative go-to-market strategies and/or unique business models including unique channel partner models, cloudsourcing models, and software within a service offerings.

Social business solutions. These are enterprise social solutions that support the transformation to a social business. Solutions could be social platforms that enable communities, blogs, microblogs, wikis or other social collaboration and business functions, socialytic software platforms and applications, or other innovative social business software tools.

Mobile enterprise applications. Mobile is the new enterprise desktop for many employees. With touch UIs, WiFi capabilities, and mobile applications, smartphones are rapidly gaining market share. A new class of mobile enterprise software applications and platforms is emerging to take advantage of the new mobile hardware platforms and provide access to enterprise systems and processes beyond email.
Vendors were asked to submit case studies that demonstrated success in one of these three software application trends. These case studies were evaluated individually and independently across several predetermined criteria. We then met to review the scores that had been collected for the competing vendors and determine the final list. The goal was to select three to four entrants per trend.
The case studies submitted for review had to demonstrate that the technology was available, able to be implemented, and provided real-world benefits to the customer. The case studies were judged based on their ability to clearly communicate the implementation across three topic areas:
The solution. A description of customer needs, a description of the solution sought, a description of how the deal was won, and a description of the implemented solution, including a brief overview of the technology and service components not provided by the company

The results. A description of the process and results of the implementation, customer metrics for success, and the vendor's own description of its sense of success in this implementation

The customer and future plans. A description of any future plans to extend the implementation and customer comments about the implementation process, technology, and solution results
This years (2010) winners are:
Enterprise application vendors' go-to-market strategies:
Mobile enterprise applications:
Social business solutions:
Congratulations to each of these innovators!