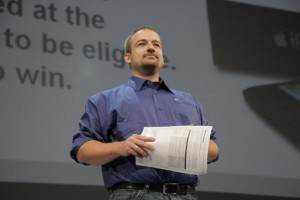 Over the years I've always tried hard to bring new technologies from within SAP to the forefront, into the hands of folks at our events as quickly as possible and when I made my transition to my new team this year I took the opportunity to push that personal agenda even further.
It was this motivation that gave birth to the "Innovation Weekend" at the SAP TechEd event in Berlin and Las Vegas this year – surprisingly I was not alone in my thoughts as several others were thinking of similar type activities so it made this event becoming a reality even easier!
So here we are in final countdown to Berlin and the Innovation Weekend is in full swing!
We've got sandbox systems, experts and some real life business cases we are bringing for you to sink your teeth into! We're talking to lots of interesting people and we've still got room for you to join!
But I didn't want to just bla bla bla you here though telling you things you are already aware of instead I wanted to share a personal story that I just listened to… I got a phone call from a friend who loves these types of events but he's a student and not able to cover all of the costs associated with big events like this and he was calling to ask me if it would be remote broadcasted at all – we certainly plan to but as with any live event we'll see how it works out in reality once we are there and onsite.  This was disappointing for him but I managed to help that by giving him a free pass so now he only has to deal with his hotel and getting there – fingers crossed for you bud!
This made me realize though – what if others have similar problems or stories? Well I have a couple of free passes – in fact for Berlin I have another free pass to offer the Friday Morning Report community, this is a free pass to the Innovation Weekend only and I'm holding a contest on how you can win this free pass!
FMR is looking for a roaming reporter – someone who can show in a short video clip how they would spend some of their time at the event "covering" it in reporter like fashion – best video clip gets the free pass!