Many researchers — journalists, analysts, reporters, academics, and others — use this blog as a source of analysis and news on IT leadership, success, and related issues. These folks frequently ask for advice on finding specific information within the 850 posts (as of today) that comprise this blog.
For example, perhaps you are interested in locating failures related to a specific vendor or want to learn about the Devil's Triangle. Here's how to search efficiently using Google.
By using Google's "site:" command, it's really quite easy, as illustrated in this diagram (click to see a larger version):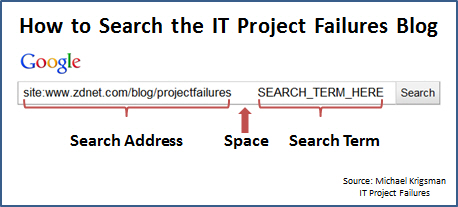 Here are detailed instructions:
1. Enter the search address. It will always be:
site:www.zdnet.com/blog/projectfailures
2. Put in a space after the address
3. Enter your search term
To search for Devil's Triangle, for instance, type the following into Google:
site:www.zdnet.com/blog/projectfailures devil's triangle
That's all there is to it. Try this simple search technique and let me know if you have questions.
Happy hunting!