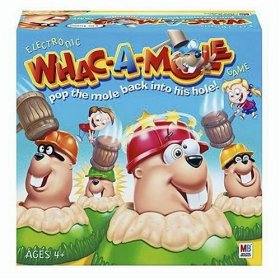 For anyone looking after customer support and marketing for a popular consumer brand, keeping up with all the channels consumers can use these days to keep in touch must feel like playing a round of Whac-a-Mole. No sooner have you caught up with Twitter, then Facebook pops up. Next year there'll no doubt be some other new fad to whack. Fail to take them seriously, and customers will feel neglected, so the big brands have no choice but to find some way of joining in the online chatter.
No doubt customers of SaaS CRM provider RightNow will be glad to learn of today's news that it will be adding full Facebook integration to its platform in November. The vendor provides a multi-channel platform that consumer brands use to co-ordinate customer service across telephone call centers, websites and social media. Around half its customers are already using Facebook to interact with their customers, director of product marketing Andrew Hull told me today in a phone briefing (last year I heard from his colleague David Vap when the company introduced social media monitoring technologies). The new functionality means they'll be able to use Facebook in a way that's integrated with their other channels and back-office resources, rather than having to engineer a separate Facebook stovepipe that relies on manual workarounds to connect up with other processes.
For a company like biking accessories and parts retailer J&P Cycles, the capability will mean that it can provide a consistent customer experience to its 30,000 Facebook followers. Its Facebook wall will be able to have a moderated community, self-service answers and give users the option to contact a support agent, either publicly or in a private conversation, whichever the user prefers. RightNow says its Facebook support is unique in having both community support and a direct connection to live agents, compared to other vendors with less comprehensive Facebook support such as Parature, Lithium and GetSatisfaction.
The new features will go live November 19th, which is a superb case-in-point of why the SaaS model is so much better than conventional computing. Technology is moving so fast these days that businesses can't afford to wait for multi-year upgrade cycles to run their course. A SaaS vendor is obliged to keep introducing features that are up-to-date with what its most leading-edge customers want to do, and every other customer is then free to switch on those features as soon as they're introduced.
And in recognition that November 19 may not be the best date for a consumer brand to have to retrain all its call center agents (because of the US Thanksgiving shopping holiday), RightNow allows its customers to choose when they implement an upgrade within (by SaaS standards) an exceptionally generous window of up to 24 months. With four releases a year, some in the industry would say that's over-generous if you want to deliver a truly multi-tenant experience. But this question of how to balance pace of innovation with process change management is one that elicits varying answers among SaaS practitioners. Although some opt for a more frequent pace, the median among RightNow customers is to implement one upgrade a year.
Related articles by Zemanta