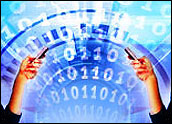 Mobile devices are quickly becoming the replacement for the enterprise desk top and that trend has both corporate IT departments and software vendors scrambling to come up with ways to solve a host of issues. From the enterprise IT side the most common approach has been to standardize on 1 device type and build the infrastructure and management layer around that specific device, most often RIM's Blackberry and Blackberry Enterprise Server (BES). The explosion of smart phones and tablet computers, specifically because of the success of Apple's iPhone and iOS but including Google's Android operating system with HTC and Motorola leading the way with some innovative handsets, has disrupted this happy enterprise approach. Add to that the inclination of the new social employee to work around IT and just do what it takes to get the job done and we have the makings of an enterprise mobile IT mess, and that's just on the hardware and OS end of it. The apps side of enterprise is in some ways much worse.
Many of the traditional enterprise apps are not mobile. Enterprise vendors have rushed to put together some limited apps that work on selected devices but in general these apps are very limited in function and in some cases very light on experience especially when compared to the mobile apps that are available for the iPhone and Android devices from the consumer side. Don't get me wrong, there are some great business point solutions for individual productivity (I use a bunch of them on iPad, iPod Touch and my Android phone) or maybe even group use, but those don't connect to the enterprise business systems. Today mobile business apps generally offer up the most common mobile tasks like time and expense, approvals, email, and maybe some limited collaboration but they're not replacements for laptop and desktop apps.  Mobile employees need full enterprise functionality but often end up frustrated and lugging around brick notebooks because of it (I guess the chiropractors appreciate that anyway). Vendors are struggling to get more functionality mobilized and at the same time make some money at it and most mobile apps have been add-ons for existing customers at little or no charge (of course that's no surprise, if the features aren't there who'd pay for them anyway).
There are basically three ways that apps are getting into the hands of mobile workers. There's the browser approach, with vendors just reformatting some of the enterprise app into usable pieces. The second is the virtualized mobile desktop approach, which currently is enabled by a Citrix product called Receiver. Receiver basically makes any enterprise app available to the mobile worker in a secure environment that doesn't need features like remote device wipe because nothing resides on the mobile device. This approach seems to keep IT happy anyway, although some apps are more usable than others. It is a very quick and easy solution for businesses that can mobilize the entire set of enterprise apps today and works particularly well on the iPad and other slate computing devices. The last approach is to build and deploy native apps for each OS. This is the most complex, especially if the vendor goes the route of building each one individually. There are some platforms that automate the process of porting to different OS's, Rhomobile, for example.
Monetizing these apps also isn't necessarily easy. Now native stand alone apps that are sold through the Apple App Store or the Android Marketplace are making money, they're not the issue. The issue is the apps that enterprise vendors are pushing out to give some access to enterprise SW assets. Browser based apps are generally not apps that add enough value to justify even smaller price tags and most often are "included" as value add to the original license. Virtualization is great for the virtualization vendor and certainly Citrix is monetizing it, but of course the enterprise SW vendors don't have opportunity there. Native apps really offer the best opportunity from several perspectives, better user experience (potential for better UX anyway), over time more functionality and easier to justify additional licensing fees (if the level of features and functions is robust enough). Expect to see many more native apps over the next few years, which should increase their value and show growth for the enterprise apps vendors.
The last category is mobile middleware, something that's not in my area of expertise but very important to making businesses device agnostic. The middleware provides the remote apps delivers, security and remote wipe capabilities, among other things. I think this is a category that should see excellent opportunity for growth as more businesses open up to supporting multiple devices and employee choice. Outside of RIM's BES there's not a clear challenger yet. SAP, with it's Sybase acquisition wants to mover there, but that strategy is still evolving.
There's a movement in the enterprise to approach the way devices are purchased and provided to employees. I've spoken with several CIO's that are moving to an allowance approach for employees instead of providing devices. This policy change provides a set amount to employees and let's them choose the device they want, usually with some boundaries though. The program applies to laptops, tables and smart phones and give control to the individual. It can boost productivity as employees choose the tools they feel most comfortable with and can improve morale by creating a sense of empowerment. The policy can also be a money saver for the company or at worst break even. I think this approach makes a lot of sense in a rapidly changing tech environment with employees taking a much more empowered stance and will see much wider use in the future.