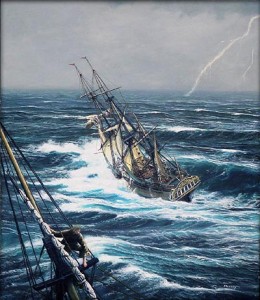 As I present to outsourcing audiences on the book tour, they pick up on several new services markets the book outlines – Accenture's Mobility Operated Services. Cognizant being involved in the clinical tests for the high-profile H1N1 vaccine last year. Appriro's various Social CRM projects. Wipro's product engineering services as "buyer" organizations embed more and more technology in their products.  BPO combined with SaaS as in the Genpact relationship with NetSuite, and others.
They also need to be aware that 3 "systems" described in the book are rising to create a perfect storm which will decimate traditional IT outsourcing markets
a) Clouds are reshaping expectations of infrastructure services: As they read Mike Manos describing the Azure infrastructure he built for Microsoft (he is now at Nokia), outsourcers should be in awe and fear. He describes modern day "pyramids" – new-age data centers costing several hundred millions of dollars and containing 200,000+ servers. The scale of the capex budgets is way beyond what most outsourcing firms are culturally used to. The energy and tax efficiency of these centers puts most outsourcing data centers to shame. Finally, outsourcing firms are used to 5 year contracts – watch them struggle to adjust to the model amazon web services is defining where they happily sell you compute and storage in hourly units!
b) SaaS is reshaping expectations of application management services: Read about salesforce in the book and how they support 70,000+ customers in a multi-tenant model with a fraction of the staff even the most efficient offshore firms need to support applications. And talk about 5 minute upgrades compared to 2-3-4 month SAP and Oracle upgrades the service markets have been accustomed to.
c) Agile is reshaping expectations of systems integration services: The case study around an agile project – with its iterative design/development and minimal planning project in a regulation heavy environment at GE Healthcare should open some eyes. The logical question is why it is not more mainstream in SI world in less compliance sensitive industries . And by the way, that is still a tame form of "agile". There are plenty of talent pools like the one I recently wrote about in Toronto which is into "extreme" development models.
Interesting times ahead for the industry…