Oracle OpenWorld 2010 open last night with a splash and a groan. The leading announcements signaled the start of a week that is slated to be full of new things. The keynotes on the other hand were some of the worst I've ever witnessed. If you want an excruciating recap of that mess just search the conference hashtag (#oow10) to get a sampling. Without belaboring the point any more than is necessary let me just offer that the endless HP infomercial will live on in my memory as the
all time worst conference keynote
(and I've been to a lot of conferences).
On to the good stuff. There were two really key announcements last night, the Exalogic Elastic Cloud in a box and the long awaited Fusion Applications release. In CEO Larry Ellison's keynote #1 (this year breaking with tradition, Larry is doing 2 keynotes, apparently because there is so much to announce this year. Usually Larry's announcements are held for his Wed keynote), he spent quite a bit of time on cloud definitions. Now I know most of you are a bit tired of this definition stuff but it does help to understand what Oracle now defines as "cloud". According to Larry Oracle is basically aligning to Amazon's EC2 definition of cloud with a few slight mods. This means that to Oracle cloud computing is an open standards based development and execution platform with virtualization technology, elasticity, fault tolerance, and is priced based on use. Salesforce.com took the brunt of this definition session with Larry calling them a SaaS apps vendor with a closed, limited, proprietary platform used for extending the salesforce.com apps but not really fault tolerant, not virtualized, and priced per user, not per use. Building on this definition and on the Oracle Exadata database machine, Oracle is now launching the Exalogic Elastic cloud middleware machine. The Exalogic is an integrated hardware and software machine designed to run Java and non-Java apps with very high performance. The machine posted some impressive specs and test results. Since I'm not your HW expert I'll leave the discussion of those specs to others. The Exalogic provides an interesting alternative for companies building private cloud infrastructures and also for vendors who want to deploy a public cloud. Here are a couple of Pics from the keynote: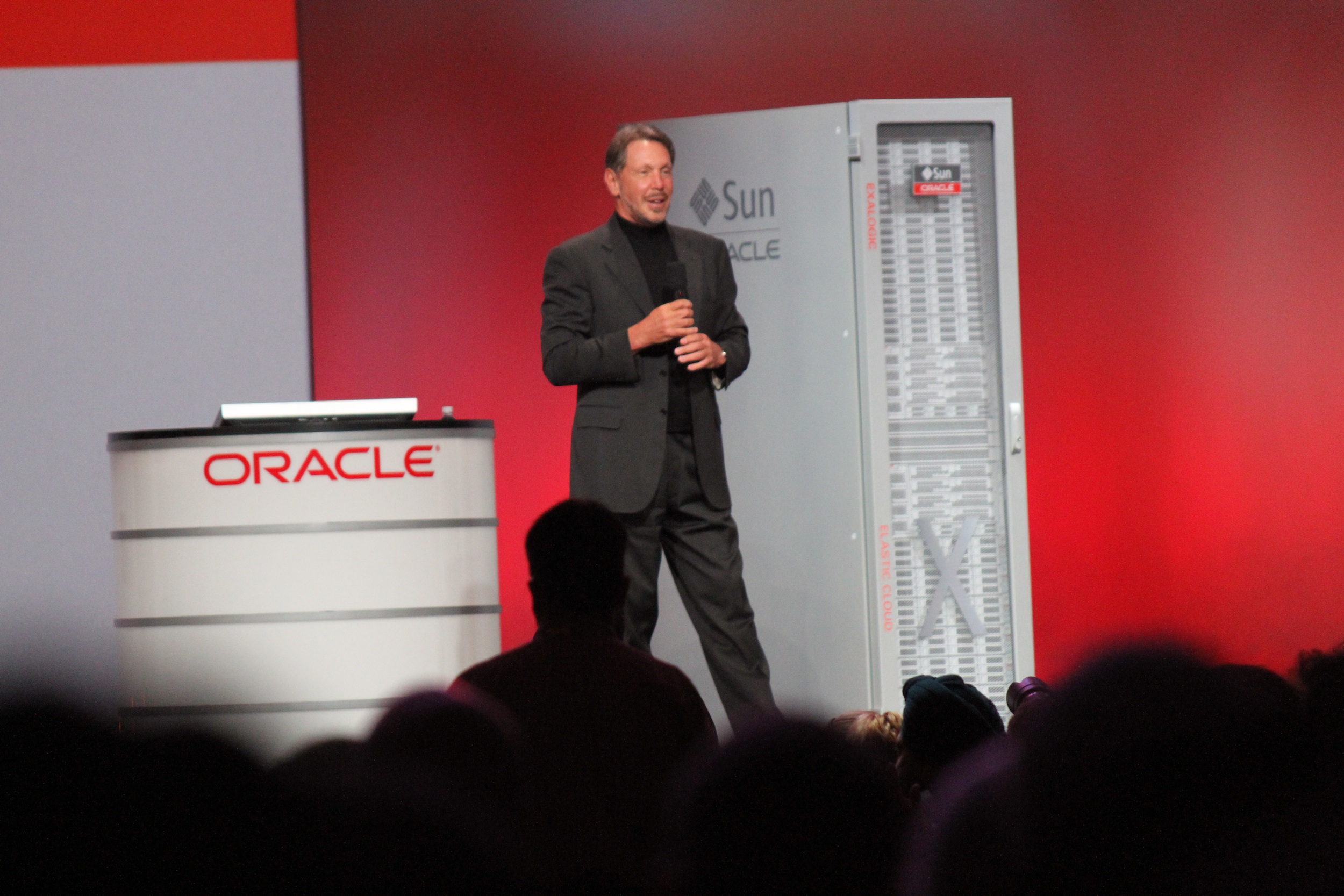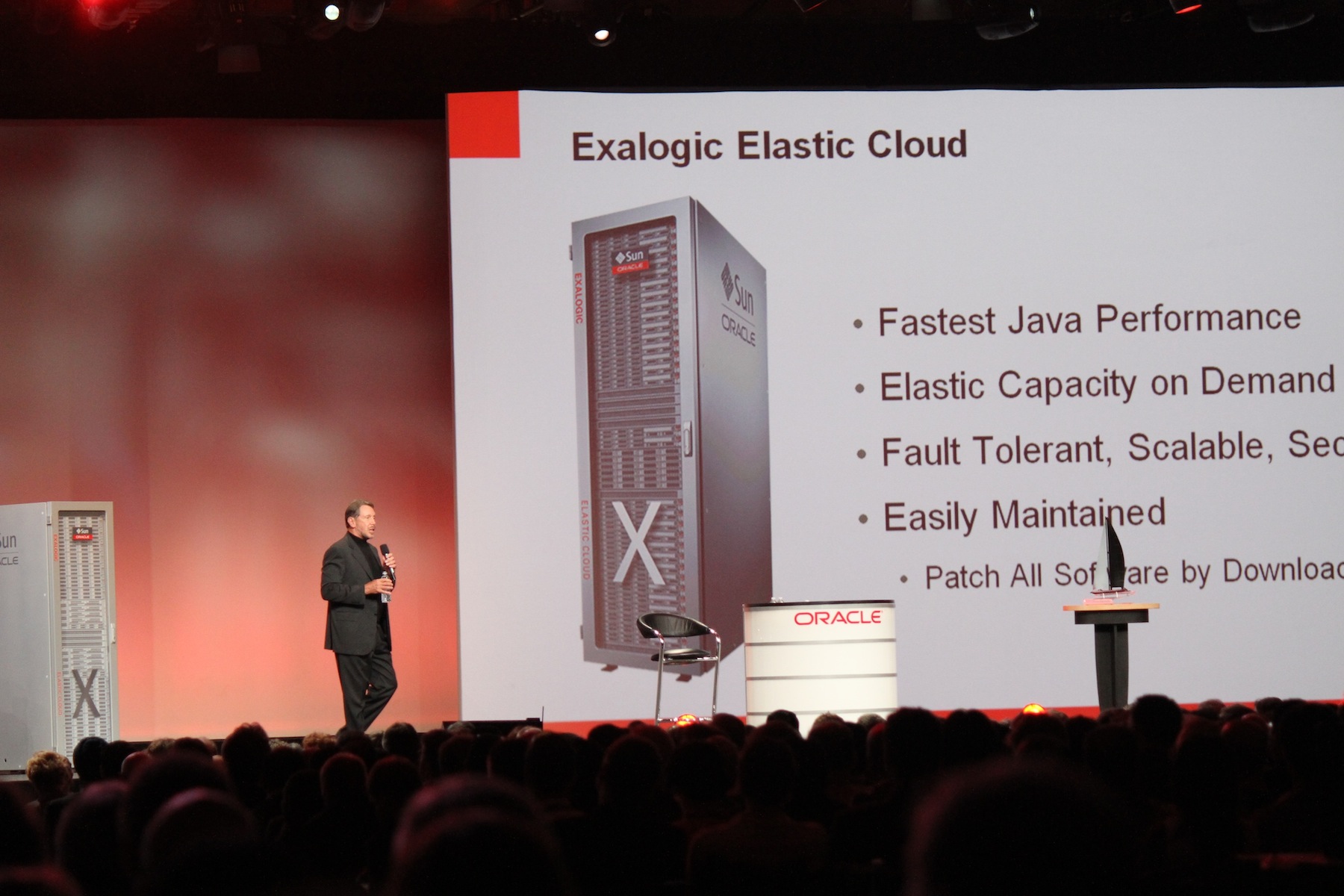 The second big announcement was the release of Fusion Applications. The apps, which will be GA in Q1 of 2011, are the long awaited modern, standards based, SaaS ready next gen suite of enterprise applications. I wrote about them here, so I won't go back through all of that information. A couple of key points though. First the apps are build around the concept of a modern user experience and provide embedded analytics that are contextual to the user. There are also embedded collaboration and social features that run throughout the apps centered around an activity stream. The detailed launch session is slated for Larry's Wed keynote so I'll hold off on more about them until that update.
Other announcements from yesterday can be found here, but to summarize:
Exalogic Elastic Cloud Machine
Fusion Applications
Oracle's Unbreakable Kernel for Oracle Linux
MySQL Release Candidate 5.5
That's it for this update, more to follow over the next few days.