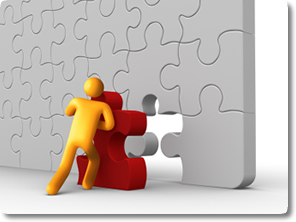 A new report from industry analyst Gartner says that IT departments around the world have deferred a collective half-billion dollars' worth of projects and upgrades that they really should have done already but didn't have the time or resources to get around to yet (thanks to Joe McKendrick for highlighting the news).
This 'technical debt' is risky, because the skipped investment or upgrades usually means the applications and infrastructure affected is less reliable and up-to-date than it should be. And Gartner warns that, instead of doing something to reduce the exposure, enterprises are going to carry on letting it grow, potentially reaching a mind-boggling $1 trillion by 2015.
I'd say there's a simple cure for this problem, though — one that Gartner has omitted to mention in its coverage of the report. It's the IT equivalent of canceling your credit cards or walking away from your mortgage — instead of stumping up yet another downpayment to your conventional IT supplier, why not get rid of the headache and put in a SaaS solution instead?
The continuous upgrade ethos of a true, multitenant SaaS solution means that you'll always be on the latest version without any extra cost or disruption, and the pay-as-you-go business model means that you can always align your spending with your budget. For many SaaS solutions, the monthly all-in cost is less than the ongoing maintenance payment for an equivalent but outdated conventionally installed application. Implementation doesn't have to be costly or disruptive either, as it can be phased in over time, allowing an orderly retirement of the system it's replacing.
The only catch is working out which of your current installed applications should go first. Gartner recommends IT leaders should "produce an annual report on the status of the application portfolio … detailing the number of applications in use, the number acquired, the number decommissioned, and the current and projected costs of both operating and sustaining or improving the integrity of the application assets." But few organizations currently have that good a handle on the state of their IT infrastructure, and in the time it takes to compile the report, even more IT debt will have accumulated.
A better idea is to rapidly identify the applications that are most underwater in terms of IT debt. Which of them generate the most helpdesk hassle, the most disproportionate maintenance bills, or are running on the least appropriate platforms (for example, those mission critical departmental apps that run on servers under people's desks — you know which ones they are, don't you?). Then work out which of them have the most readily deployed SaaS replacements available and get started on handing back the keys on your IT debt mountain.