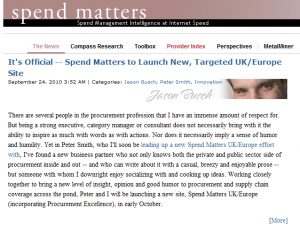 There are several people in the procurement profession that I have an immense amount of respect for. But being a strong executive, category manager or consultant does not necessarily bring with it the ability to inspire as much with words as with actions. Nor does it necessarily imply a sense of humor and humility. Yet in Peter Smith, who I'll soon be leading up a new Spend Matters UK/Europe effort with, I've found a new business partner who not only knows both the private and public sector side of procurement inside and out — and who can write about it with a casual, breezy and enjoyable prose — but someone with whom I downright enjoy socializing with and cooking up ideas. Working closely together to bring a new level of insight, opinion and good humor to procurement and supply chain coverage across the pond, Peter and I will be launching a new site, Spend Matters UK/Europe (incorporating Procurement Excellence), in early October.
Peter has a background as both a former private sector CPO and public sector civil servant. Since we'll be operating in Europe, where government is bigger business than it is here (or at least was, but don't get me started), we'll be taking slightly more of a public sector spin than we do in the US on Spend Matters (also owing to the fact Peter is an insider in this regard). Yet the content will be balanced and on the whole, we expect to focus extensively on private sector issues as well. We expect the site to be a strong complement to existing news and analysis covering procurement and supply chain in the UK and Europe, delivering the same type of voice that built the original Spend Matters here.
What is in store for Spend Matters UK/Europe from a content perspective? Over on his current blog, Peter suggests "we will build on the Spend Matters US (and global) readership and reach, along with our Procurement Excellence (much appreciated) regular readership! I will obviously be writing, Jason will also write some specific pieces for the new site, we'll have some US Spend Matters material re-focused on Europe, and interesting guest writers." To this I would add that we believe insightful technology, services and outsourcing coverage of procurement and supply chain is lacking in Europe from a UK and continental perspective, and Peter and I intend to remedy this situation as quickly as possible (while — or was that "whilst"?? — keeping a sense of dry humor about it all).
As Peter also notes in his announcement post, we're looking for a handful of sponsors to help us get off the ground. We've already lined some up through word of mouth and our existing relationships, but if you're interested in getting in on the ground level, there's still time. The sponsorship packages are a bit different than they are here in terms of what's included, and you might even convince Peter to share a bottle of claret or two from his cellar if you're a good negotiator. Reach out to Peter (psmith (at) procurementexcellence (dot) com) or me for more details if you're curious. And for everyone else, we look forward to your ideas and feedback as we get this new site off the ground. Stay tuned for further details in the coming weeks as Spend Matters brings a bit of the new procurement world to the old!