OpenWorld 2010 is officially over and San Francisco is starting to settle down from the more than 41,000 additional guest this week. It was a very busy week for all involved and as the dust is settling I want to take a minute to recap some of the announcements that came out. The overall messaging this year incorporated the addition of Sun and the HW component into the overall Oracle strategy. They have expanded on the appliance theme and spent a lot of time talking about HW and SW engineered and integrated together. The message is that they build best of breed components and then spend time integrating and testing them to make sure they work together. Larry Ellison said it best during the financial analyst summit at the end of OOW, "we were a component supplier like everyone else in the tech industry but I always thought it was crazy that customers had to buy the parts and assemble them on their own. Customers are tired of dealing with components, they want complete, working larger subsystems at least."
Key Announcements:
There were many other press releases of course, but these are the real meat of the lot. For me the Fusion Applications announcements, demos, customer discussions, etc. were of great interest. I've worked with the Fusion team for the last year of so and have had good exposure to the apps so I wasn't surprised to hear that customers, partners and analysts were very impressed with what they saw of Fusion apps. Oracle is in the process of working with early adopter customers and the apps will be GA in calendar Q1 of 2011. Here's a slide that shows what's in the release, over 100 modules that can be consumed individually or as a suite: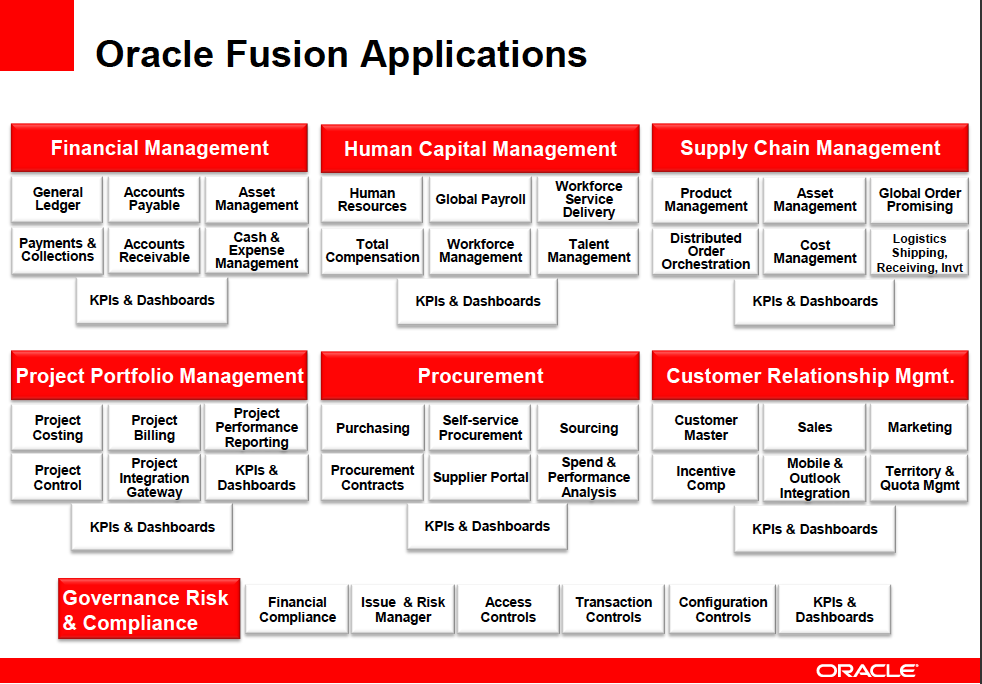 Fusion apps are modern and have a very clean and much simplified UX. During the main stage demo on Wed they also showed the new Fusion mobile platform that enables customers to push all of the functionality of Fusion to the mobile user, a key point in today's mobile enterprise. One of the things I found most compelling was the way that features and functions are embedded, like collaboration and BI. Here's a slide that shows this flow: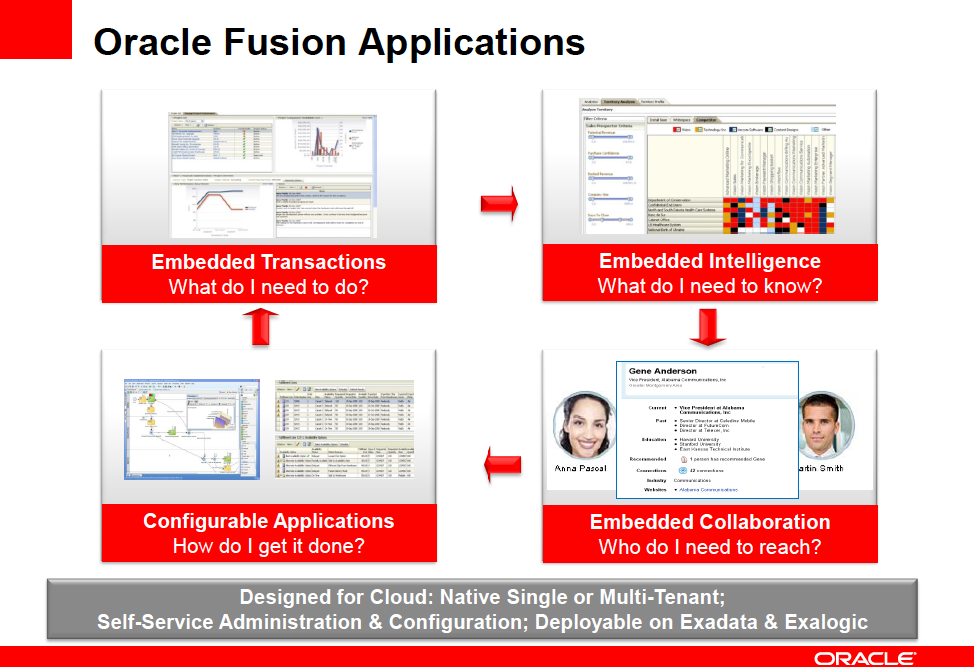 I'll spend some more time over the next few months on them as they get closer to release.
Lastly, Oracle has consistently supported the Apps Unlimited program rolled out some 4 years ago. They reinforced the commitment to each of the brands under the program and showed roadmaps for each. Here's a slide that shows the latest from Apps Unlimited: