Oracle Continues To Demonstrate Benefits From An Effective M&A Strategy

A quick poll of 61 attendees at Oracle Open World 2010, revealed that 57.4% (35/61) of Oracle customers were positive, 29.2% (19/61) were neutral, and 10.8% (7/61) were negative about Oracle's application strategy to date.  A continued stream of product enhancements and releases may be one cause for the positive sentiment.  Delivery of Fusion Apps by Q1 2011 may also have lifted any previous negative sentiment from last year's poll.  Additional feature and product release highlights from Oracle Open World 2010 include:
CRM On Demand Release 18 gains integrated sales and marketing. The latest release focuses on features that bridge marketing processes to sales. For example, key data integration tools for customer data improve the quality of common profiles for both customers and prospects. Campaign automation tools allow marketers to launch 1:1 marketing and lights-out campaigns across multi-channel and multi-stage campaigns using visual business process flows (see Figure 1). Analytics take advantage of the Hyperion multi-dimensional warehouse to integrate business intelligence between sales and marketing. Response management capabilities create personalized landing pages, web forms, and microsites.   Meanwhile, Partner Relationship Management (PRM) enhancements include improved deal registration and capabilities to capture partner enablement. The improved Insurance Edition adds a Producer Success Model and expands the broker demographic profiles. Adaptive planning streamlines business planning and delivers trend analysis across multiple time periods for simulation and comparison.

POV: The new release plugs a significant hole in covering prospecting to lead management to closed revenue business processes. However, buyers comparing best of breed marketing automation solutions such as Eloqua, Market2Lead, Marketo, Silvepop/Vtrenz, and Unica will find that major functionality gaps still exists. Despite the gap, those customers seeking an On Demand integrated sales and marketing suite will find that Release 18 sets the stage for a level of integration often lacking in best of breed suites and Salesforce.com.  Business benefits include a unified revenue pipeline that will improve close rates and reduces sales and marketing costs. More importantly, those customers on Release 18 gain an easier migration path to the Fusion CRM applications arriving in January 2011. Customers seeking Social CRM features will have to wait for future releases or go to competitor products.
JD Edwards Enterprise One customers gain key adapter to Supply Chain and Order Management Analytics. With Oracle BI Applications Release 7.9.6.2, Enterprise One customers can integrate to Oracle's Supply Chain and Order Management Analytics.  Key features include the ability to assess inventory levels, predict backlogs, identify potential product fulfillment needs, improve accounts receivable (A/R) and daily sales outstanding (DSO) issues.

POV: Improved insight into order and inventory data will allow organizations to improve inventory management, order fulfillment, and reduce collection times.  This new adapter continues Oracle's strategy to embed Oracle Business Intelligence Apps into the core JD Edwards product.  Financial analytics have already been delivered.  Buyers can expect Manufacturing Analytics, Procurement and Spend Analytics, and Projects Analytics to arrive in future releases.  In general, customers will find the analytical capabilities a significant improvement over existing JD Edwards offerings.
Apps Unlimited announcements show continued investment in R&D. PeopleSoft customers gain a visual company directory through PeopleSoft Enterprise Company Directory 9.1 and an upgraded PeopleSoft PeopleTools 8.51 with a new PeopleSoft Test Framework that provides contextual menus and menu inclusion of user search results.  Primavera P6 Enterprise Project Portfolio Management 8 release delivers full web enablement, OBIEE integration, and a new governance platform.  Oracle BI Applications Release 7.9.6.2 adds full localization and translation to 28 supported languages, integration with Informatica PowerCenter 8.6.1 HF11 for ET and support for IBM DB2 9.1, 9.5 and 9.7; Microsoft SQL Server 2000, 2005 and 2008; and Teradata v12 and 13.

POV: Despite the big shift in R&D resources towards the Fusion Apps teams, Oracle keeps up its promise to deliver customer requested features.  Larry's strategy appears to provide a greater synergy and return on R&D investments when compared to other competitors.  However, customers must continue to hold Oracle accountable to investments in the short-term and long-term Apps Unlimited product road maps.  In fact, objective analysis on Oracle's R&D investments by many influencers including Martijn Linssen show Oracle with the least relative investment in R&D when compared to competitors such as IBM and SAP.  Oracle could be the most efficient, but over the long haul, Oracle will have to invest more or explain why the organization is more efficient.  At the end of the day, customers want to know how much of their maintenance dollars go back to their product.
Industry Global Business Unit (GBU) announcements focus on key regulatory requirements. Oracle Health Management Platform brings providers and payors together with key features such as Thin Electronic Health Records, member enrollment and relationship management, medications reconciliation, patient discharge management, provider referral analysis, patient outreach and relationship management, and chronic disease management.  Oracle Financial Services Software brings Oracle Mantas Energy and Commodity Trading Compliance (ECTC) to meet trade surveillance requirements from agencies such as the CFTC, FERC and FSA.  A partnership with CACI helps add compliance with federal mandates such as the Federal Acquisition Regulation (FAR) and the Defense Federal Acquisition Regulation Supplement (DFARS)to the Oracle Contract Lifecycle Management for Public Sector product.  On the Insurance Industry front, Oracle added Oracle Insurance Insight 7.0, an insurance-specific business intelligence solution; and Oracle Documaker Release 12, a solution for creating and managing complex insurance documents.

POV: Oracle's vertical play targets high margin service based industries including Communications, Education and Research, Financial Services, Healthcare, Insurance, Life Sciences, Public Sector, and Retail.  Recent releases and enhancements highlight the economies of scale strategy to win over heavily regulated industries.  Oracle's treasure trove of horizontal components will continue to provide its Industry GBU's with new features freeing up vertical teams to concentrate on the ever-changing regulatory environment.  Of note, the CACI deal in Public Sector Contract Lifecycle Management signals Oracle's willingness to deploy a vertical partner strategy to build out areas of expertise.
Oracle continues investment in Java. Java Platform, Standard Edition (Java SE) expands support for new scripting languages and reaffirms support for Open JDK for JDK 7 and JDK 8.  Oracle plans to bring many of the JavaFX features back into the Client to include the latest multi-media standads support including HTML 5, JavaScript, and CSS Web.  Oracle plans to invest more into Java on Devices that support small-footprint CPU-efficient capabilities that support new devices such as cards, phones and TVs, and consistent tooling and emulation across hardware platforms.

Point of View (POV): Cynics may believe that Oracle will corrupt the openness of Java going forward and hinder the common agenda.  However, the investments in improving mobile, multi-media usage, and consumer devices reflect the broader adoption trends expected in the industry.  Skeptics should stay vigilant with efforts and energies focused 3 years from now, especially when the scrutiny naturally fades over time.  More importantly, users should keep the free standard edition features rich applying the 80/20 rule for what paid features show up in Enterprise Edition versus the Standard Edition.
Figure 1. CRM On Demand users can manage campaigns using visual work flows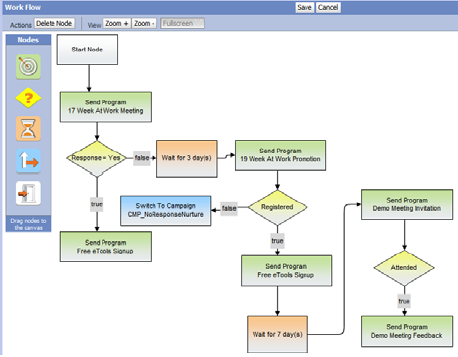 (Source: Oracle Corporation)
The Bottom Line For Buyers (Users) – Oracle's Red Stack Strategy Will Provide This Generation's Challenge To IBM

Larry Ellison's strategy appears to recreate IBM's 1970′s approach at securing the largest share of the business technology budget (see Figure 2).  By providing a silicon to vertical app stack, customers gain not only high levels of integration, but also potential long term lock-in.  Expect Die Hard Red Stack Believers and Net New Greenfield customers to buy-in to this approach.   However, the bulk of Oracle's customer base comprises of Best of Breed Customers By Accident.  Many of these customers run software with a large IBM Blue Stack footprint.  As a result, these customers must determine how to balance their portfolio with: Apps Unlimited in the short term;  SaaS best of breed plays and Fusion Apps component adoption in the mid-term; and replacement with Oracle Fusion Apps or other technology stacks such as SAP, Salesforce.com, and Workday in the long-term.  Most customers expect to optimize for business technology value while leaving enough leverage to preserve choice and flexibility. Customers must make strategic platform decisions on both on-premises and cloud stacks for packaged apps and custom apps in the next 24 months or face a broken or strained apps strategy.
Figure 2. IBM's Model Represents The Industry Gold Standard In The Software Insider Tech Ecosystem Model™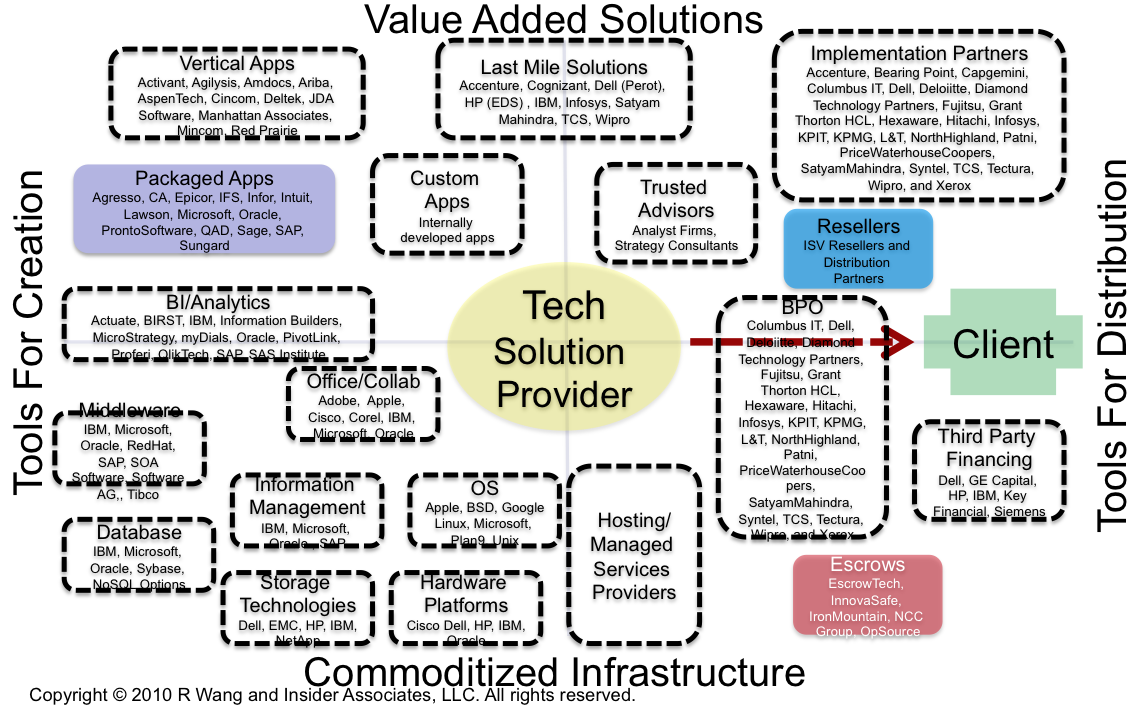 Figure 3. Scenes From Oracle Open World And Screen Shots Of Fusion Apps
(Photo: Copyright © 2010 R Wang and Insider Associates, LLC. All rights reserved.)
Your POV.
How are you prioritizing vendor selection?  Need help to incorporate mobile, social, or cloud into existing initiatives?  Have a success story to share?  Have a question to ask? You can post or send on to rwang0 at gmail dot com or r at softwareinsider dot org and we'll keep your anonymity.
Please let us know if you need help with your next gen apps strategy efforts.  Here's how we can help:
Developing a next gen apps strategy
Assessing apps strategies (e.g. single instance, two-tier ERP, upgrade, custom dev, packaged deployments)
Designing a perfect order process and system
Evaluating SaaS/Cloud integration strategies
Assisting with legacy ERP migration
Planning upgrades and migration
Performing vendor selection
Providing contract negotiations and software licensing support
Related resources and links
Other Influencers and Media
Oracle Related Coverage
Related Reports
Reprints
Reprints can be purchased through the Software Insider brand.  To request official reprints in PDF format, please contact r@softwareinsider.org.
Disclosure
Although we work closely with many mega software vendors, we want you to trust us.  Oracle is a client of Altimeter Group.  For the full disclosure policy please refer here.
Copyright © 2010 R Wang and Insider Associates, LLC. All rights reserved.