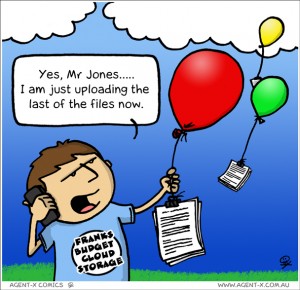 Listen to my conversation with Jon Pyke, Founder and CEO of CIMTrek, which provides tools to migrate legacy applications to cloud platforms.
In this podcast, learn why some collaborative applications are holding organisations back from adopting the cloud, and find out some of the possible approaches to migrating groupware-based applications to a cloud platform.
Listen to or download the 7:15 minute podcast below:
—Transcript—
PW: Jon, you recently founded and launched CIMTrek. Give us a brief overview of the reasons for this new venture and what it does.
JP: Well, I'd been spending some time last year writing a book with a couple of colleagues, Peter Fingar and Andy Mulholland. And one of the things — one of the recurring themes that came up when we were doing the research, was that there were so many occasions when people seemed to be assuming that anything to do with the cloud was a green-field site. And I started to question this. I thought, well actually, probably one of the biggest impediments to organizations moving to the cloud is the stuff they've already got. And I'm not talking about the big SAP- and ERP-, Oracle-type systems. I'm not talking about those. I'm talking more about the groupware legacy applications, in that space.
And I thought that if we're going to get businesses to move to the cloud, then we ought to be able to, not just move their mail addresses and directories, but you ought to be able to move the applications they use on an everyday basis. And it's those simple applications — like room booking, and expenses, and simple CRM — those sort of things. So I thought if we could move those across into a cloud platform then there would be less resistance to move into it.
Right. And so these are the collaborative applications that people are typically using in workgroups. They might be built on Lotus Notes, or Microsoft Access, Novell Groupware, or whatever I guess.
Yeah absolutely, and particularly Notes and Groupware I think. If you think back to the early nineties when we were all talking about CSCW — that's Computer Supported Collaborative Working — well, I think there's a new twist to that to become Cloud Supported Collaborative Working.
[laughter] So, one of the things that was going through my mind is, why don't businesses just carry on with what they've got? How important is it for them that these legacy applications don't have the cloud capabilities?
Well, it's an interesting question, but I think it comes down to cost and availability and being able to run these systems. Because up until now, — well, let's just backtrack a little bit. I was talking to a large organization very recently, and the amount of money they spend on keeping these types of applications going, it was just remarkable. They were spending something like nine million pounds a year to keep an organization using very simple end-user type applications, as I was mentioning before.
It seems to me if you can get rid of the ownership of that, and turn that money into being innovative and doing new things rather than trying to keep things going in the background. So it was very much a question of cost reduction, both from a people and a hardware environment. But also I think it's much greener to do it this way, rather than keeping all of these disks and machine rooms spinning away doing literally nothing most of the time.
Well, yes.
So much cost, I think.
So, is CIMTrek a complete platform, or do you work with other platforms when you migrate these applications into the cloud?
Well, what we do is, we mine those applications and turn what we find into common formats. So typically, a user would mine the Notes environment and then come back and tell you every single application you've got, how many forms you've got, how many views, and all that kind of stuff. Then we convert that into an internal common format, and then you select where you want it to go. So for instance, if you wanted to move it to a big workflow system like Pega, or Lombardi, or whatever, then you could do that. And then we would take the process across into that environment…