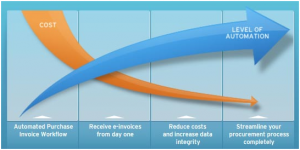 In the first post in this series, we provided a number of background details on Basware's Connectivity service offering. Continuing with the second installment, we'll probe on Basware's capabilities as an alternative to Ariba's supplier network. Today, Basware Connectivity service offers automated format conversion for approximately 50 different e-invoicing formats (Spend Matters analysis suggests this number is among the highest of all providers in the market). In addition, customer specific formats (e.g., cXML) can be added upon request.
For e-invoicing/purchase orders/catalog messages supported invoicing standards today include: TEAPPS XML, Finvoice, OIOXML, e2b, Svefaktura, Papinet, Rosettanet RNIF, EDIFACT, SAP IDOC, Dedip2, LiinosXML, UBL, xCBL, CSV and ASCII. In addition, "Basware supports collecting the invoice data from the invoice image, where the invoice image (i.e. TIFF, GIF, PDF) is used for formulating a structural data file." This is not the preferred approach, however, because most "ERP systems can already generate some type of structural data files" which reduce the chance for OCR, digital scanning or other input transcription errors.
Basware's Connectivity service also provides a toolset to enable smaller and mid-tier suppliers via "virtual printers," suppliers portals, PDF e-mailing, ERP integration for "creating the structural invoices at the supplier side and then automatically covering the invoice format to the one requested by the buyer." From a pricing standpoint, "Basware Connectivity services pricing is based on the actual transactions sent/received on each month." Customers pay only for the transactions that they have sent or received and do not have to pre-pay based on anticipated volume.
Basware told Spend Matters that their "whole model today is based upon making it easy to connect the buyer and the supplier (irrespective of their size, whether you are a small corner shop trader through to a large corporation) while keeping the cost to participate low with the focus being on paying for what you transact…